Digital Media Debtor API
Make informed, real-time credit decisions on over 400 demand partners.
Digital Media Debtor Data
Since 2017, OAREX has purchased tens of thousands of receivables from digital media businesses. Each quarter we release our digital media payment study, detailing pay history and performance for over 300 companies. That data is now available via an API so you and your publishers can make informed decisions.
Industry Index Score (out of 10)
API Data Points Available
% of Debtors That Paid Late, June, 2020
Digital Media Credit Index Methodology
OAREX calculates an Index Score for each debtor based on publicly available data. For each company, up to 10 points are assigned for five categories:
Annual Revenues – 35% weighted
Equity Capital – 35%
Length of Time in Business – 10%
# of Employees – 10%
# of Offices – 10%
Annual Revenues and Equity Capital are weighted 35% each and the other three 10% each for a total of 100%. Thus the maximum Digital Media Credit Index Score is a 10/10.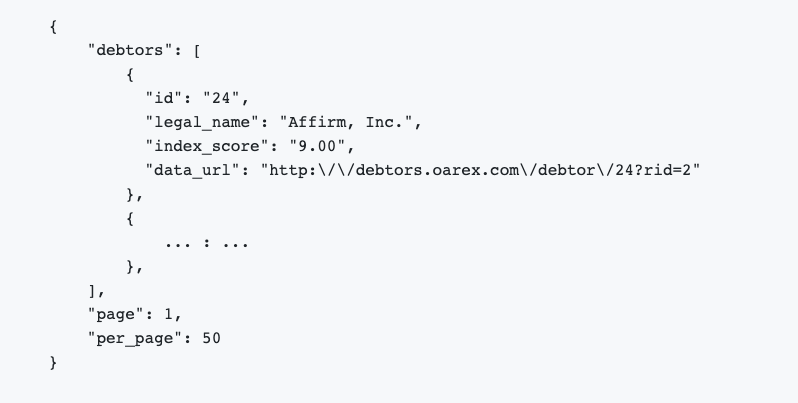 Digital Media Debtor Index Scores
| Debtor – Legal Name | Index Score | Annual Revenues | Equity Capital | Length of Time in Biz | # of Employees (LinkedIn) | # of Offices |
| --- | --- | --- | --- | --- | --- | --- |
| 10up, Inc. | 2.00 | Less than $5M or unknown | No info | 3-10 years | 100+ employees | 2-5 offices |
| 3 Pillar Global Inc. | 8.00 | $25M-$100M | VC below $50M or Bank $5M+ | 10+ years | 100+ employees | 5-10 offices |
| 33Across, Inc. | 4.63 | Less than $5M or unknown | VC below $50M or Bank $5M+ | 10+ years | 25 to 100 | 2-5 offices |
| 7hops.com, Inc. | 4.13 | Less than $5M or unknown | VC below $50M or Bank $5M+ | 3-10 years | 25 to 100 | 1 office |
| A&E Television Networks, LLC | 10.00 | $100M+ | IPO / Filed IPO or VC $50M+ | 10+ years | 100+ employees | 10+ offices |
| AARP, Inc. | 10.00 | $100M+ | IPO / Filed IPO or VC $50M+ | 10+ years | 100+ employees | 10+ offices |
| AcuityAds, Inc. | 8.88 | $25M-$100M | IPO / Filed IPO or VC $50M+ | 10+ years | 100+ employees | 5-10 offices |
| Acxiom, LLC | 10.00 | $100M+ | IPO / Filed IPO or VC $50M+ | 10+ years | 100+ employees | 10+ offices |
| Ad-Juster, Inc. | 4.38 | Less than $5M or unknown | VC below $50M or Bank $5M+ | 10+ years | 25 to 100 | 1 office |
| Adcolony, Inc. | 10.00 | $100M+ | IPO / Filed IPO or VC $50M+ | 10+ years | 100+ employees | 10+ offices |
| AdDaptive Intelligence, Inc. | 3.25 | $10M-$25M | No info | 3-10 years | 25 to 100 | 1 office |
| Adlucent, LLC | 10.00 | $100M+ | IPO / Filed IPO or VC $50M+ | 10+ years | 100+ employees | 10+ offices |
| AdMob – Google, Inc. | 10.00 | $100M+ | IPO / Filed IPO or VC $50M+ | 10+ years | 100+ employees | 10+ offices |
| Adobe, Inc. | 10.00 | $100M+ | IPO / Filed IPO or VC $50M+ | 10+ years | 100+ employees | 10+ offices |
| Adrizer, LLC | 5.00 | $10M-$25M | Bootstrapped / Seed | 3-10 years | 5 to 25 | 2-5 offices |
| AdRoll, Inc. | 10.00 | $100M+ | IPO / Filed IPO or VC $50M+ | 10+ years | 100+ employees | 10+ offices |
| Adspace Networks, Inc. | 5.25 | Less than $5M or unknown | IPO / Filed IPO or VC $50M+ | 10+ years | 25 to 100 | 1 office |
| Advantage Solutions, Inc. | 10.00 | $100M+ | IPO / Filed IPO or VC $50M+ | 10+ years | 100+ employees | 10+ offices |
| ADvendio Europe Ltd | 3.75 | Less than $5M or unknown | Bootstrapped / Seed | 10+ years | 25 to 100 | 2-5 offices |
| Advertise.com, Inc. | 3.50 | Less than $5M or unknown | Bootstrapped / Seed | 10+ years | 25 to 100 | 1 office |
| Adyoulike Ltd. | 6.88 | $10M-$25M | VC below $50M or Bank $5M+ | 3-10 years | 100+ employees | 5-10 offices |
| AerServ, LLC | 10.00 | $100M+ | IPO / Filed IPO or VC $50M+ | 10+ years | 100+ employees | 10+ offices |
| AffectLayer, Inc. | 5.50 | Less than $5M or unknown | IPO / Filed IPO or VC $50M+ | 3-10 years | 100+ employees | 2-5 offices |
| Affirm, Inc. | 9.00 | $100M+ | IPO / Filed IPO or VC $50M+ | 3-10 years | 100+ employees | 2-5 offices |
| Akamai Technologies, Inc. | 10.00 | $100M+ | IPO / Filed IPO or VC $50M+ | 10+ years | 100+ employees | 10+ offices |
| All Response Media Ltd. | 4.50 | $10M-$25M | No info | 10+ years | 100+ employees | 5-10 offices |
| Alliant Cooperative Data Solutions LLC | 1.75 | Less than $5M or unknown | No info | 10+ years | 25 to 100 | 1 office |
| Altern Marketing, LLC | 4.63 | $25M-$100M | No info | 3-10 years | 100+ employees | 2-5 offices |
| Amazon, Inc. | 10.00 | $100M+ | IPO / Filed IPO or VC $50M+ | 10+ years | 100+ employees | 10+ offices |
| Amer Sports Corporation | 10.00 | $100M+ | IPO / Filed IPO or VC $50M+ | 10+ years | 100+ employees | 10+ offices |
| American Express Company | 10.00 | $100M+ | IPO / Filed IPO or VC $50M+ | 10+ years | 100+ employees | 10+ offices |
| American Family Insurance | 9.75 | $100M+ | IPO / Filed IPO or VC $50M+ | 10+ years | 100+ employees | 5-10 offices |
| Analytic Partners, Inc. | 4.75 | $10M-$25M | No info | 10+ years | 100+ employees | 10+ offices |
| Apple, Inc. | 10.00 | $100M+ | IPO / Filed IPO or VC $50M+ | 10+ years | 100+ employees | 10+ offices |
| Applovin Corp. | 9.75 | $100M+ | IPO / Filed IPO or VC $50M+ | 3-10 years | 100+ employees | 10+ offices |
| Appnext Ltd. | 6.88 | $25M-$100M | Bootstrapped / Seed | 3-10 years | 100+ employees | 5-10 offices |
| Appnexus, Inc. | 10.00 | $100M+ | IPO / Filed IPO or VC $50M+ | 10+ years | 100+ employees | 10+ offices |
| Arc'teryx Equipment | 10.00 | $100M+ | IPO / Filed IPO or VC $50M+ | 10+ years | 100+ employees | 10+ offices |
| AT&T, Inc. | 10.00 | $100M+ | IPO / Filed IPO or VC $50M+ | 10+ years | 100+ employees | 10+ offices |
| Attentive Mobile, Inc. | 4.63 | Less than $5M or unknown | VC below $50M or Bank $5M+ | 3-10 years | 100+ employees | 2-5 offices |
| Audioboom Ltd | 7.00 | $10M-$25M | IPO / Filed IPO or VC $50M+ | 3-10 years | 25 to 100 | 2-5 offices |
| Awin, Inc. | 10.00 | $100M+ | IPO / Filed IPO or VC $50M+ | 10+ years | 100+ employees | 10+ offices |
| Axel Springer SE | 10.00 | $100M+ | IPO / Filed IPO or VC $50M+ | 10+ years | 100+ employees | 10+ offices |
| Backcountry.com, LLC | 9.75 | $100M+ | IPO / Filed IPO or VC $50M+ | 10+ years | 100+ employees | 5-10 offices |
| Bannerflow AB | 5.25 | $10M-$25M | Bootstrapped / Seed | 3-10 years | 25 to 100 | 2-5 offices |
| Beachfront Media, LLC | 7.25 | $10M-$25M | IPO / Filed IPO or VC $50M+ | 10+ years | 25 to 100 | 2-5 offices |
| Beeswaxio Corporation | 6.38 | $10M-$25M | VC below $50M or Bank $5M+ | 3-10 years | 100+ employees | 2-5 offices |
| Bestow, Inc. | 4.38 | Less than $5M or unknown | VC below $50M or Bank $5M+ | 3-10 years | 25 to 100 | 2-5 offices |
| Bidswitch, Inc. | 6.25 | $10M-$25M | Bootstrapped / Seed | 10+ years | 100+ employees | 5-10 offices |
| BigCommerce Pty. Ltd. | 9.25 | $100M+ | IPO / Filed IPO or VC $50M+ | 10+ years | 100+ employees | 2-5 offices |
| Blaize, Inc. | 6.25 | Less than $5M or unknown | IPO / Filed IPO or VC $50M+ | 10+ years | 100+ employees | 5-10 offices |
| Blucora, Inc. | 9.25 | $100M+ | IPO / Filed IPO or VC $50M+ | 10+ years | 100+ employees | 2-5 offices |
| BlueConic, Inc. | 4.38 | Less than $5M or unknown | VC below $50M or Bank $5M+ | 3-10 years | 25 to 100 | 2-5 offices |
| Bonneville International Corporation | 5.00 | Less than $5M or unknown | IPO / Filed IPO or VC $50M+ | 3-10 years | 25 to 100 | 1 office |
| Bonnier Corporation | 10.00 | $100M+ | IPO / Filed IPO or VC $50M+ | 10+ years | 100+ employees | 10+ offices |
| Bounce Exchange, Inc. | 7.25 | $10M-$25M | IPO / Filed IPO or VC $50M+ | 3-10 years | 100+ employees | 2-5 offices |
| Braze, Inc. | 8.13 | $25M-$100M | IPO / Filed IPO or VC $50M+ | 3-10 years | 100+ employees | 2-5 offices |
| Bridge Marketing | 6.88 | $25M-$100M | Bootstrapped / Seed | 3-10 years | 100+ employees | 5-10 offices |
| Brut S.A.S. | 6.38 | $5M-$10M | IPO / Filed IPO or VC $50M+ | 3-10 years | 100+ employees | 2-5 offices |
| Button, Inc. | 7.00 | $10M-$25M | IPO / Filed IPO or VC $50M+ | 3-10 years | 100+ employees | 1 office |
| Cadent, LLC | 5.75 | Less than $5M or unknown | IPO / Filed IPO or VC $50M+ | 10+ years | 100+ employees | 2-5 offices |
| California Milk Processor Board | 10.00 | $100M+ | IPO / Filed IPO or VC $50M+ | 10+ years | 100+ employees | 10+ offices |
| Canadian Tire Corporation, Limited | 10.00 | $100M+ | IPO / Filed IPO or VC $50M+ | 10+ years | 100+ employees | 10+ offices |
| Capri Holdings Ltd. | 10.00 | $100M+ | IPO / Filed IPO or VC $50M+ | 10+ years | 100+ employees | 10+ offices |
| Castle Brands, Inc. | 8.13 | $25M-$100M | IPO / Filed IPO or VC $50M+ | 10+ years | 25 to 100 | 2-5 offices |
| Celtra, Inc. | 8.00 | $25M-$100M | VC below $50M or Bank $5M+ | 10+ years | 100+ employees | 5-10 offices |
| Centro Inc. | 10.00 | $100M+ | IPO / Filed IPO or VC $50M+ | 10+ years | 100+ employees | 10+ offices |
| Chartbeat, Inc. | 4.38 | Less than $5M or unknown | VC below $50M or Bank $5M+ | 10+ years | 25 to 100 | 1 office |
| Chartboost, Inc. | 6.38 | $10M-$25M | VC below $50M or Bank $5M+ | 3-10 years | 100+ employees | 2-5 offices |
| CMI Marketing, Inc. | 3.75 | Less than $5M or unknown | Bootstrapped / Seed | 10+ years | 100+ employees | 1 office |
| Codewise Sp. z o.o. | 7.25 | $25M-$100M | VC below $50M or Bank $5M+ | 3-10 years | 100+ employees | 2-5 offices |
| Columbia Sportswear Company | 9.75 | $100M+ | IPO / Filed IPO or VC $50M+ | 10+ years | 100+ employees | 5-10 offices |
| Commission Junction LLC | 10.00 | $100M+ | IPO / Filed IPO or VC $50M+ | 10+ years | 100+ employees | 10+ offices |
| Conde Nast, Inc. | 9.25 | $100M+ | IPO / Filed IPO or VC $50M+ | 10+ years | 100+ employees | 2-5 offices |
| Connatix Native Exchange, Inc. | 6.13 | $10M-$25M | VC below $50M or Bank $5M+ | 3-10 years | 25 to 100 | 2-5 offices |
| Conversant, LLC | 10.00 | $100M+ | IPO / Filed IPO or VC $50M+ | 10+ years | 100+ employees | 10+ offices |
| COPA90 Limited | 6.38 | $10M-$25M | VC below $50M or Bank $5M+ | 3-10 years | 100+ employees | 2-5 offices |
| Cordial Experiences, Inc. | 4.13 | Less than $5M or unknown | VC below $50M or Bank $5M+ | 3-10 years | 25 to 100 | 1 office |
| Cosmetic Executive Women, Inc. | 2.88 | $5M-$10M | No info | 10+ years | 100+ employees | 1 office |
| Cox Media Group | 10.00 | $100M+ | IPO / Filed IPO or VC $50M+ | 10+ years | 100+ employees | 10+ offices |
| CPC Strategy, LLC | 7.13 | $25M-$100M | Bootstrapped / Seed | 10+ years | 100+ employees | 5-10 offices |
| Cramer-Krasselt, Inc. | 6.63 | $25M-$100M | Bootstrapped / Seed | 10+ years | 100+ employees | 2-5 offices |
| Credible Labs, Inc. | 9.25 | $100M+ | IPO / Filed IPO or VC $50M+ | 10+ years | 100+ employees | 2-5 offices |
| Criteo, Inc. | 10.00 | $100M+ | IPO / Filed IPO or VC $50M+ | 10+ years | 100+ employees | 10+ offices |
| Croud Inc Ltd. | 4.63 | $5M-$10M | Bootstrapped / Seed | 3-10 years | 100+ employees | 2-5 offices |
| Cumulus Media, Inc. | 10.00 | $100M+ | IPO / Filed IPO or VC $50M+ | 10+ years | 100+ employees | 10+ offices |
| Custora, Inc. | 4.13 | Less than $5M or unknown | VC below $50M or Bank $5M+ | 3-10 years | 25 to 100 | 1 office |
| CW Network, LLC | 9.00 | $100M+ | IPO / Filed IPO or VC $50M+ | 10+ years | 100+ employees | 1 office |
| Cxense ASA | 7.75 | $10M-$25M | IPO / Filed IPO or VC $50M+ | 3-10 years | 100+ employees | 5-10 offices |
| Dailymotion, Inc. | 10.00 | $100M+ | IPO / Filed IPO or VC $50M+ | 10+ years | 100+ employees | 10+ offices |
| Dash Hudson Inc. | 4.63 | Less than $5M or unknown | VC below $50M or Bank $5M+ | 3-10 years | 100+ employees | 2-5 offices |
| Dataxu, Inc. | 10.00 | $100M+ | IPO / Filed IPO or VC $50M+ | 10+ years | 100+ employees | 10+ offices |
| Datorama | 10.00 | $100M+ | IPO / Filed IPO or VC $50M+ | 10+ years | 100+ employees | 10+ offices |
| David Wood Associates Inc. | 10.00 | $100M+ | IPO / Filed IPO or VC $50M+ | 10+ years | 100+ employees | 10+ offices |
| Dentsu Aegis Network Ltd. | 10.00 | $100M+ | IPO / Filed IPO or VC $50M+ | 10+ years | 100+ employees | 10+ offices |
| Dentsu Inc. | 10.00 | $100M+ | IPO / Filed IPO or VC $50M+ | 10+ years | 100+ employees | 10+ offices |
| Dictionary.com, LLC | 9.00 | $100M+ | IPO / Filed IPO or VC $50M+ | 10+ years | 100+ employees | 1 office |
| Dish Network, LLC | 10.00 | $100M+ | IPO / Filed IPO or VC $50M+ | 10+ years | 100+ employees | 10+ offices |
| Disney ABC Television Group | 10.00 | $100M+ | IPO / Filed IPO or VC $50M+ | 10+ years | 100+ employees | 10+ offices |
| District M, Inc. | 7.00 | $25M-$100M | VC below $50M or Bank $5M+ | 3-10 years | 25 to 100 | 2-5 offices |
| Distroscale, Inc. | 5.88 | $25M-$100M | Bootstrapped / Seed | 3-10 years | 5 to 25 | 2-5 offices |
| Dotcom Distribution | 3.50 | $10M-$25M | No info | 10+ years | 25 to 100 | 1 office |
| Dow Jones & Company, Inc. | 10.00 | $100M+ | IPO / Filed IPO or VC $50M+ | 10+ years | 100+ employees | 10+ offices |
| Dstillery, Inc. | 8.00 | $25M-$100M | VC below $50M or Bank $5M+ | 10+ years | 100+ employees | 5-10 offices |
| Dunnhumby, Inc. | 10.00 | $100M+ | IPO / Filed IPO or VC $50M+ | 10+ years | 100+ employees | 10+ offices |
| Ebsco Industries, Inc. | 10.00 | $100M+ | IPO / Filed IPO or VC $50M+ | 10+ years | 100+ employees | 10+ offices |
| EMX Digital, LLC | 10.00 | $100M+ | IPO / Filed IPO or VC $50M+ | 10+ years | 100+ employees | 10+ offices |
| Enero Group Ltd. | 10.00 | $100M+ | IPO / Filed IPO or VC $50M+ | 10+ years | 100+ employees | 10+ offices |
| Entertainment Studios, Inc. | 9.75 | $100M+ | IPO / Filed IPO or VC $50M+ | 10+ years | 100+ employees | 5-10 offices |
| Entravision Communications Corporation | 10.00 | $100M+ | IPO / Filed IPO or VC $50M+ | 10+ years | 100+ employees | 10+ offices |
| Essence Global Ltd. | 10.00 | $100M+ | IPO / Filed IPO or VC $50M+ | 10+ years | 100+ employees | 10+ offices |
| Essilor International S.A. | 10.00 | $100M+ | IPO / Filed IPO or VC $50M+ | 10+ years | 100+ employees | 10+ offices |
| EssilorLuxottica S.A. | 10.00 | $100M+ | IPO / Filed IPO or VC $50M+ | 10+ years | 100+ employees | 10+ offices |
| Even Financial, Inc. | 5.25 | Less than $5M or unknown | IPO / Filed IPO or VC $50M+ | 3-10 years | 100+ employees | 1 office |
| Exponential Interactive, Inc. | 7.38 | $25M-$100M | Bootstrapped / Seed | 10+ years | 100+ employees | 10+ offices |
| Exxon | 10.00 | $100M+ | IPO / Filed IPO or VC $50M+ | 10+ years | 100+ employees | 10+ offices |
| Facebook, Inc. | 10.00 | $100M+ | IPO / Filed IPO or VC $50M+ | 10+ years | 100+ employees | 10+ offices |
| Fanatics, Inc. | 10.00 | $100M+ | IPO / Filed IPO or VC $50M+ | 10+ years | 100+ employees | 10+ offices |
| First Republic Bank, N.A. | 10.00 | $100M+ | IPO / Filed IPO or VC $50M+ | 10+ years | 100+ employees | 10+ offices |
| Fit Analytics GmbH | 2.63 | $5M-$10M | No info | 3-10 years | 25 to 100 | 2-5 offices |
| Fletcher Group LLC | 10.00 | $100M+ | IPO / Filed IPO or VC $50M+ | 10+ years | 100+ employees | 10+ offices |
| Fluent, Inc. | 9.00 | $100M+ | IPO / Filed IPO or VC $50M+ | 3-10 years | 100+ employees | 2-5 offices |
| Flurry, Inc. | 10.00 | $100M+ | IPO / Filed IPO or VC $50M+ | 10+ years | 100+ employees | 10+ offices |
| Foodmaker Inc. | 9.00 | $100M+ | IPO / Filed IPO or VC $50M+ | 10+ years | 100+ employees | 1 office |
| Forbes Media, LLC | 9.13 | $25M-$100M | IPO / Filed IPO or VC $50M+ | 10+ years | 100+ employees | 10+ offices |
| Fox Broadcasting Company | 10.00 | $100M+ | IPO / Filed IPO or VC $50M+ | 10+ years | 100+ employees | 10+ offices |
| Freewheel Media, Inc. | 10.00 | $100M+ | IPO / Filed IPO or VC $50M+ | 10+ years | 100+ employees | 10+ offices |
| FuelX, Inc. | 3.00 | Less than $5M or unknown | Bootstrapped / Seed | 3-10 years | 5 to 25 | 1 office |
| Fullcontact, Inc. | 5.25 | $5M-$10M | VC below $50M or Bank $5M+ | 3-10 years | 100+ employees | 1 office |
| Fyber GmbH | 9.75 | $100M+ | IPO / Filed IPO or VC $50M+ | 10+ years | 100+ employees | 5-10 offices |
| Gladly Software, Inc. | 5.50 | Less than $5M or unknown | IPO / Filed IPO or VC $50M+ | 3-10 years | 100+ employees | 2-5 offices |
| Glispa Global GmbH | 9.75 | $100M+ | IPO / Filed IPO or VC $50M+ | 10+ years | 100+ employees | 5-10 offices |
| Google Play | 10.00 | $100M+ | IPO / Filed IPO or VC $50M+ | 10+ years | 100+ employees | 10+ offices |
| Google, Inc. | 10.00 | $100M+ | IPO / Filed IPO or VC $50M+ | 10+ years | 100+ employees | 10+ offices |
| Graham Holdings Company | 9.75 | $100M+ | IPO / Filed IPO or VC $50M+ | 3-10 years | 100+ employees | 10+ offices |
| Gravy Analytics, Inc. | 4.13 | Less than $5M or unknown | VC below $50M or Bank $5M+ | 3-10 years | 25 to 100 | 1 office |
| Group M Worldwide, Inc. | 10.00 | $100M+ | IPO / Filed IPO or VC $50M+ | 10+ years | 100+ employees | 10+ offices |
| GSN Games, Inc. | 10.00 | $100M+ | IPO / Filed IPO or VC $50M+ | 10+ years | 100+ employees | 10+ offices |
| GumGum, Inc. | 9.13 | $100M+ | VC below $50M or Bank $5M+ | 10+ years | 100+ employees | 10+ offices |
| H Code Media, Inc. | 5.75 | $10M-$25M | Bootstrapped / Seed | 3-10 years | 25 to 100 | 5-10 offices |
| Hashtag Paid, Inc. | 5.25 | $5M-$10M | VC below $50M or Bank $5M+ | 3-10 years | 25 to 100 | 2-5 offices |
| Havas Media Group USA, LLC | 10.00 | $100M+ | IPO / Filed IPO or VC $50M+ | 10+ years | 100+ employees | 10+ offices |
| HBO | 10.00 | $100M+ | IPO / Filed IPO or VC $50M+ | 10+ years | 100+ employees | 10+ offices |
| Headway Digital | 10.00 | $100M+ | IPO / Filed IPO or VC $50M+ | 10+ years | 100+ employees | 10+ offices |
| Heineken N.V. | 10.00 | $100M+ | IPO / Filed IPO or VC $50M+ | 10+ years | 100+ employees | 10+ offices |
| Helly Hansen | 10.00 | $100M+ | IPO / Filed IPO or VC $50M+ | 10+ years | 100+ employees | 10+ offices |
| Himalaya Media, Inc. | 5.50 | Less than $5M or unknown | IPO / Filed IPO or VC $50M+ | 3-10 years | 100+ employees | 2-5 offices |
| Horizon Media, Inc. | 8.38 | $100M+ | VC below $50M or Bank $5M+ | 10+ years | 100+ employees | 2-5 offices |
| Hotwire Public Relations Limited | 10.00 | $100M+ | IPO / Filed IPO or VC $50M+ | 10+ years | 100+ employees | 10+ offices |
| Hubspot, Inc. | 9.75 | $100M+ | IPO / Filed IPO or VC $50M+ | 10+ years | 100+ employees | 5-10 offices |
| Hulu, LLC | 10.00 | $100M+ | IPO / Filed IPO or VC $50M+ | 10+ years | 100+ employees | 10+ offices |
| IAC/InterActiveCorp. | 10.00 | $100M+ | IPO / Filed IPO or VC $50M+ | 10+ years | 100+ employees | 10+ offices |
| Impact Tech, Inc. | 6.50 | Less than $5M or unknown | IPO / Filed IPO or VC $50M+ | 10+ years | 100+ employees | 10+ offices |
| Index Exchange USA, LLC | 6.50 | $100M+ | No info | 10+ years | 100+ employees | 10+ offices |
| Infutor Data Solutions, LLC | 5.38 | Less than $5M or unknown | VC below $50M or Bank $5M+ | 10+ years | 100+ employees | 5-10 offices |
| InMarket, LLC | 4.63 | Less than $5M or unknown | VC below $50M or Bank $5M+ | 3-10 years | 100+ employees | 2-5 offices |
| Inmobi, Inc. | 10.00 | $100M+ | IPO / Filed IPO or VC $50M+ | 10+ years | 100+ employees | 10+ offices |
| Instart Logic, Inc. | 8.63 | $25M-$100M | IPO / Filed IPO or VC $50M+ | 3-10 years | 100+ employees | 5-10 offices |
| Integral Ad Science, Inc. | 10.00 | $100M+ | IPO / Filed IPO or VC $50M+ | 10+ years | 100+ employees | 10+ offices |
| IPONWEB, Inc. | 6.25 | $10M-$25M | Bootstrapped / Seed | 10+ years | 100+ employees | 5-10 offices |
| IronSource USA, Inc. | 10.00 | $100M+ | IPO / Filed IPO or VC $50M+ | 10+ years | 100+ employees | 10+ offices |
| Jellyfish Group Limited | 10.00 | $100M+ | IPO / Filed IPO or VC $50M+ | 10+ years | 100+ employees | 10+ offices |
| Jimmy Johns, LLC | 9.25 | $100M+ | IPO / Filed IPO or VC $50M+ | 10+ years | 100+ employees | 2-5 offices |
| Johnson & Johnson | 10.00 | $100M+ | IPO / Filed IPO or VC $50M+ | 10+ years | 100+ employees | 10+ offices |
| JustPremium B.V. | 5.38 | $5M-$10M | Bootstrapped / Seed | 3-10 years | 100+ employees | 10+ offices |
| Justworks, Inc. | 7.88 | $25M-$100M | IPO / Filed IPO or VC $50M+ | 3-10 years | 100+ employees | 1 office |
| Kargo Global, Inc. | 8.00 | $100M+ | Bootstrapped / Seed | 10+ years | 100+ employees | 5-10 offices |
| Katz Media Group, Inc. | 10.00 | $100M+ | IPO / Filed IPO or VC $50M+ | 10+ years | 100+ employees | 10+ offices |
| Kenshoo, Ltd. | 10.00 | $100M+ | IPO / Filed IPO or VC $50M+ | 10+ years | 100+ employees | 10+ offices |
| Keurig Dr Pepper, Inc. | 10.00 | $100M+ | IPO / Filed IPO or VC $50M+ | 10+ years | 100+ employees | 10+ offices |
| Klarna Bank AB | 10.00 | $100M+ | IPO / Filed IPO or VC $50M+ | 10+ years | 100+ employees | 10+ offices |
| Klarna, Inc. | 10.00 | $100M+ | IPO / Filed IPO or VC $50M+ | 10+ years | 100+ employees | 10+ offices |
| Klaviyo, Inc. | 5.25 | Less than $5M or unknown | IPO / Filed IPO or VC $50M+ | 3-10 years | 100+ employees | 1 office |
| KMM Marketing, Inc. | 5.25 | $10M-$25M | Bootstrapped / Seed | 10+ years | 25 to 100 | 1 office |
| Kustomer, Inc. | 5.50 | Less than $5M or unknown | IPO / Filed IPO or VC $50M+ | 3-10 years | 100+ employees | 2-5 offices |
| Ladder Financial Inc. | 5.88 | $5M-$10M | IPO / Filed IPO or VC $50M+ | 3-10 years | 25 to 100 | 1 office |
| Lightbox OOH Video Network | 5.25 | Less than $5M or unknown | IPO / Filed IPO or VC $50M+ | 10+ years | 25 to 100 | 1 office |
| Lions Gate Entertainment, Inc. | 10.00 | $100M+ | IPO / Filed IPO or VC $50M+ | 10+ years | 100+ employees | 10+ offices |
| Liquid Advertising, Inc. | 3.75 | Less than $5M or unknown | Bootstrapped / Seed | 10+ years | 25 to 100 | 2-5 offices |
| Live Nation | 10.00 | $100M+ | IPO / Filed IPO or VC $50M+ | 10+ years | 100+ employees | 10+ offices |
| Liveramp, Inc. | 10.00 | $100M+ | IPO / Filed IPO or VC $50M+ | 10+ years | 100+ employees | 10+ offices |
| Lockerdome, LLC | 4.38 | Less than $5M or unknown | VC below $50M or Bank $5M+ | 10+ years | 25 to 100 | 1 office |
| Lon Operations, LLC | 5.25 | Less than $5M or unknown | IPO / Filed IPO or VC $50M+ | 3-10 years | 100+ employees | 1 office |
| Longtail Ad Solutions, Inc. | 7.50 | $25M-$100M | VC below $50M or Bank $5M+ | 10+ years | 100+ employees | 2-5 offices |
| LoopMe Ltd. | 7.13 | $10M-$25M | VC below $50M or Bank $5M+ | 3-10 years | 100+ employees | 10+ offices |
| Lululemon Athletica Inc. | 9.75 | $100M+ | IPO / Filed IPO or VC $50M+ | 10+ years | 100+ employees | 5-10 offices |
| Luxottica Group SpA | 10.00 | $100M+ | IPO / Filed IPO or VC $50M+ | 10+ years | 100+ employees | 10+ offices |
| M&C Saatchi Mobile Ltd. | 10.00 | $100M+ | IPO / Filed IPO or VC $50M+ | 10+ years | 100+ employees | 10+ offices |
| M8, Inc. | 10.00 | $100M+ | IPO / Filed IPO or VC $50M+ | 10+ years | 100+ employees | 10+ offices |
| Mack Weldon, Inc. | 4.13 | Less than $5M or unknown | VC below $50M or Bank $5M+ | 3-10 years | 25 to 100 | 1 office |
| Marin Software, Inc. | 8.38 | $25M-$100M | IPO / Filed IPO or VC $50M+ | 10+ years | 100+ employees | 2-5 offices |
| Marketplace Strategy LLC | 9.75 | $100M+ | IPO / Filed IPO or VC $50M+ | 3-10 years | 100+ employees | 10+ offices |
| Mars, Inc. | 10.00 | $100M+ | IPO / Filed IPO or VC $50M+ | 10+ years | 100+ employees | 10+ offices |
| Massachusetts Institute of Technology | 9.00 | $100M+ | IPO / Filed IPO or VC $50M+ | 10+ years | 100+ employees | 1 office |
| Matomy Media Group, Ltd. | 10.00 | $100M+ | IPO / Filed IPO or VC $50M+ | 10+ years | 100+ employees | 10+ offices |
| Maz Systems, Inc. | 4.13 | Less than $5M or unknown | VC below $50M or Bank $5M+ | 3-10 years | 25 to 100 | 1 office |
| McDonalds Corporation | 10.00 | $100M+ | IPO / Filed IPO or VC $50M+ | 10+ years | 100+ employees | 10+ offices |
| MediaMath, Inc. | 10.00 | $100M+ | IPO / Filed IPO or VC $50M+ | 10+ years | 100+ employees | 10+ offices |
| Merck & Co., Inc. | 10.00 | $100M+ | IPO / Filed IPO or VC $50M+ | 10+ years | 100+ employees | 10+ offices |
| Meredith Corporation | 10.00 | $100M+ | IPO / Filed IPO or VC $50M+ | 10+ years | 100+ employees | 10+ offices |
| Merkle, Inc. | 10.00 | $100M+ | IPO / Filed IPO or VC $50M+ | 10+ years | 100+ employees | 10+ offices |
| Messe Frankfurt, Inc. | 8.25 | $100M+ | Bootstrapped / Seed | 10+ years | 100+ employees | 10+ offices |
| MGM | 10.00 | $100M+ | IPO / Filed IPO or VC $50M+ | 10+ years | 100+ employees | 10+ offices |
| Michael Kors (USA), Inc. | 10.00 | $100M+ | IPO / Filed IPO or VC $50M+ | 10+ years | 100+ employees | 10+ offices |
| Microsoft Corporation | 10.00 | $100M+ | IPO / Filed IPO or VC $50M+ | 10+ years | 100+ employees | 10+ offices |
| Midroll, LLC | 10.00 | $100M+ | IPO / Filed IPO or VC $50M+ | 10+ years | 100+ employees | 10+ offices |
| MiQ Digital Ltd | 5.38 | Less than $5M or unknown | VC below $50M or Bank $5M+ | 3-10 years | 100+ employees | 10+ offices |
| Mobvista International Technology Ltd | 9.75 | $100M+ | IPO / Filed IPO or VC $50M+ | 3-10 years | 100+ employees | 10+ offices |
| Monevo, Inc. | 8.00 | $25M-$100M | VC below $50M or Bank $5M+ | 10+ years | 100+ employees | 5-10 offices |
| Mopub, Inc. | 10.00 | $100M+ | IPO / Filed IPO or VC $50M+ | 10+ years | 100+ employees | 10+ offices |
| Namogoo Technologies Ltd. | 5.25 | Less than $5M or unknown | IPO / Filed IPO or VC $50M+ | 3-10 years | 25 to 100 | 2-5 offices |
| National Cable Communications, LLC | 10.00 | $100M+ | IPO / Filed IPO or VC $50M+ | 10+ years | 100+ employees | 10+ offices |
| Nativo, Inc. | 6.00 | $5M-$10M | VC below $50M or Bank $5M+ | 3-10 years | 100+ employees | 5-10 offices |
| Natixis SA | 10.00 | $100M+ | IPO / Filed IPO or VC $50M+ | 10+ years | 100+ employees | 10+ offices |
| NBCUniversal, LLC | 10.00 | $100M+ | IPO / Filed IPO or VC $50M+ | 10+ years | 100+ employees | 10+ offices |
| NCC Media | 10.00 | $100M+ | IPO / Filed IPO or VC $50M+ | 10+ years | 100+ employees | 10+ offices |
| NEP Group, Inc. | 10.00 | $100M+ | IPO / Filed IPO or VC $50M+ | 10+ years | 100+ employees | 10+ offices |
| NetApp, Inc. | 9.75 | $100M+ | IPO / Filed IPO or VC $50M+ | 10+ years | 100+ employees | 5-10 offices |
| NetSuite, Inc. | 10.00 | $100M+ | IPO / Filed IPO or VC $50M+ | 10+ years | 100+ employees | 10+ offices |
| Networked Insights, Inc. | 9.75 | $100M+ | IPO / Filed IPO or VC $50M+ | 10+ years | 100+ employees | 5-10 offices |
| New Balance, Inc. | 9.75 | $100M+ | IPO / Filed IPO or VC $50M+ | 10+ years | 100+ employees | 5-10 offices |
| News Corporation | 10.00 | $100M+ | IPO / Filed IPO or VC $50M+ | 10+ years | 100+ employees | 10+ offices |
| Nexstar Digital, LLC | 9.25 | $100M+ | IPO / Filed IPO or VC $50M+ | 10+ years | 100+ employees | 2-5 offices |
| NFL Properties, LLC | 10.00 | $100M+ | IPO / Filed IPO or VC $50M+ | 10+ years | 100+ employees | 10+ offices |
| Nielsen Holdings PLC | 10.00 | $100M+ | IPO / Filed IPO or VC $50M+ | 10+ years | 100+ employees | 10+ offices |
| Nike, Inc. | 10.00 | $100M+ | IPO / Filed IPO or VC $50M+ | 10+ years | 100+ employees | 10+ offices |
| NinthDecimal, Inc. | 7.50 | $10M-$25M | IPO / Filed IPO or VC $50M+ | 10+ years | 100+ employees | 2-5 offices |
| NYU | 9.00 | $100M+ | IPO / Filed IPO or VC $50M+ | 10+ years | 100+ employees | 1 office |
| Oakley | 10.00 | $100M+ | IPO / Filed IPO or VC $50M+ | 10+ years | 100+ employees | 10+ offices |
| Oath Inc. (Verizon / AOL) | 10.00 | $100M+ | IPO / Filed IPO or VC $50M+ | 10+ years | 100+ employees | 10+ offices |
| OB Media, LLC | 10.00 | $100M+ | IPO / Filed IPO or VC $50M+ | 10+ years | 100+ employees | 10+ offices |
| OBmedia, Inc. | 10.00 | $100M+ | IPO / Filed IPO or VC $50M+ | 10+ years | 100+ employees | 10+ offices |
| Ogury Ltd. | 9.75 | $100M+ | IPO / Filed IPO or VC $50M+ | 3-10 years | 100+ employees | 10+ offices |
| Omeda | 3.75 | $10M-$25M | No info | 10+ years | 25 to 100 | 2-5 offices |
| Omnia Media, Inc. | 6.75 | $100M+ | Bootstrapped / Seed | 3-10 years | 25 to 100 | 1 office |
| Omnicom Media Group Holdings, Inc. | 10.00 | $100M+ | IPO / Filed IPO or VC $50M+ | 10+ years | 100+ employees | 10+ offices |
| OneMarket Network LLC | 7.00 | $10M-$25M | IPO / Filed IPO or VC $50M+ | 3-10 years | 25 to 100 | 2-5 offices |
| OneSpace Inc. | 6.13 | $10M-$25M | VC below $50M or Bank $5M+ | 3-10 years | 100+ employees | 1 office |
| OneTrust, LLC | 6.00 | Less than $5M or unknown | IPO / Filed IPO or VC $50M+ | 3-10 years | 100+ employees | 5-10 offices |
| Open Text, Inc. | 10.00 | $100M+ | IPO / Filed IPO or VC $50M+ | 10+ years | 100+ employees | 10+ offices |
| OpenX Technologies, Inc. | 9.75 | $100M+ | IPO / Filed IPO or VC $50M+ | 10+ years | 100+ employees | 5-10 offices |
| Optimove, Inc. | 6.63 | $10M-$25M | VC below $50M or Bank $5M+ | 10+ years | 100+ employees | 2-5 offices |
| Oracle Corporation | 10.00 | $100M+ | IPO / Filed IPO or VC $50M+ | 10+ years | 100+ employees | 10+ offices |
| Outbrain, Inc. | 10.00 | $100M+ | IPO / Filed IPO or VC $50M+ | 10+ years | 100+ employees | 10+ offices |
| Pantheon Systems, Inc. | 7.25 | $10M-$25M | IPO / Filed IPO or VC $50M+ | 3-10 years | 100+ employees | 2-5 offices |
| Parsely, Inc. | 4.38 | Less than $5M or unknown | VC below $50M or Bank $5M+ | 10+ years | 25 to 100 | 1 office |
| Patagonia, Inc. | 9.25 | $100M+ | IPO / Filed IPO or VC $50M+ | 10+ years | 100+ employees | 2-5 offices |
| Penske Media Corporation | 10.00 | $100M+ | IPO / Filed IPO or VC $50M+ | 10+ years | 100+ employees | 10+ offices |
| Pepperjam, LLC | 5.75 | Less than $5M or unknown | IPO / Filed IPO or VC $50M+ | 10+ years | 100+ employees | 2-5 offices |
| Perfect Sense, Inc. | 7.25 | $25M-$100M | VC below $50M or Bank $5M+ | 10+ years | 100+ employees | 1 office |
| Perion Network Ltd. | 10.00 | $100M+ | IPO / Filed IPO or VC $50M+ | 10+ years | 100+ employees | 10+ offices |
| Permutive, Inc. | 6.13 | $10M-$25M | VC below $50M or Bank $5M+ | 3-10 years | 25 to 100 | 2-5 offices |
| Personalized Beauty Discovery Inc. | 9.00 | $100M+ | IPO / Filed IPO or VC $50M+ | 3-10 years | 100+ employees | 2-5 offices |
| PGA Tour, Inc. | 10.00 | $100M+ | IPO / Filed IPO or VC $50M+ | 10+ years | 100+ employees | 10+ offices |
| Piano, Inc. | 6.00 | $5M-$10M | VC below $50M or Bank $5M+ | 3-10 years | 100+ employees | 5-10 offices |
| Pixability, Inc. | 7.25 | $25M-$100M | VC below $50M or Bank $5M+ | 10+ years | 25 to 100 | 2-5 offices |
| Pixlee, Inc. | 4.38 | Less than $5M or unknown | VC below $50M or Bank $5M+ | 3-10 years | 25 to 100 | 2-5 offices |
| Playbuzz LTD. | 8.13 | $25M-$100M | IPO / Filed IPO or VC $50M+ | 3-10 years | 100+ employees | 2-5 offices |
| PostUp Digital, LLC | 9.25 | $100M+ | IPO / Filed IPO or VC $50M+ | 10+ years | 100+ employees | 2-5 offices |
| Primis Ltd. | 10.00 | $100M+ | IPO / Filed IPO or VC $50M+ | 10+ years | 100+ employees | 10+ offices |
| Pro Sportority Ltd. | 6.00 | Less than $5M or unknown | IPO / Filed IPO or VC $50M+ | 3-10 years | 100+ employees | 5-10 offices |
| Prodege, LLC | 9.75 | $100M+ | IPO / Filed IPO or VC $50M+ | 10+ years | 100+ employees | 5-10 offices |
| Project Worldwide, Inc. | 9.13 | $100M+ | VC below $50M or Bank $5M+ | 10+ years | 100+ employees | 10+ offices |
| Ptarmigan Media, Inc. | 7.25 | $100M+ | Bootstrapped / Seed | 10+ years | 25 to 100 | 2-5 offices |
| Publicis Group | 10.00 | $100M+ | IPO / Filed IPO or VC $50M+ | 10+ years | 100+ employees | 10+ offices |
| Pubmatic, Inc. | 9.13 | $25M-$100M | IPO / Filed IPO or VC $50M+ | 10+ years | 100+ employees | 10+ offices |
| PUIG, S.L. | 10.00 | $100M+ | IPO / Filed IPO or VC $50M+ | 10+ years | 100+ employees | 10+ offices |
| Pulsepoint, Inc. | 8.13 | $100M+ | VC below $50M or Bank $5M+ | 3-10 years | 100+ employees | 2-5 offices |
| Quad/Graphics, Inc. | 10.00 | $100M+ | IPO / Filed IPO or VC $50M+ | 10+ years | 100+ employees | 10+ offices |
| Quantcast Corp. | 10.00 | $100M+ | IPO / Filed IPO or VC $50M+ | 10+ years | 100+ employees | 10+ offices |
| Qubit, Inc. | 7.25 | $10M-$25M | IPO / Filed IPO or VC $50M+ | 3-10 years | 100+ employees | 2-5 offices |
| Quiet Logistics, Inc. | 4.00 | Less than $5M or unknown | Bootstrapped / Seed | 10+ years | 100+ employees | 2-5 offices |
| QuinStreet, Inc. | 9.75 | $100M+ | IPO / Filed IPO or VC $50M+ | 10+ years | 100+ employees | 5-10 offices |
| Quint Group Ltd. | 8.00 | $25M-$100M | VC below $50M or Bank $5M+ | 10+ years | 100+ employees | 5-10 offices |
| Rakuten, Inc. | 10.00 | $100M+ | IPO / Filed IPO or VC $50M+ | 10+ years | 100+ employees | 10+ offices |
| Ranker, Inc. | 6.38 | $10M-$25M | VC below $50M or Bank $5M+ | 10+ years | 100+ employees | 1 office |
| Rapid Displays, Inc. | 5.75 | Less than $5M or unknown | IPO / Filed IPO or VC $50M+ | 10+ years | 100+ employees | 2-5 offices |
| Ray Ban | 10.00 | $100M+ | IPO / Filed IPO or VC $50M+ | 10+ years | 100+ employees | 10+ offices |
| Recurly, Inc. | 4.88 | Less than $5M or unknown | VC below $50M or Bank $5M+ | 10+ years | 100+ employees | 2-5 offices |
| Resonate Networks, Inc. | 7.50 | $25M-$100M | VC below $50M or Bank $5M+ | 10+ years | 100+ employees | 2-5 offices |
| Revcontent, LLC | 7.75 | $100M+ | Bootstrapped / Seed | 3-10 years | 100+ employees | 5-10 offices |
| RhythmOne, LLC | 10.00 | $100M+ | IPO / Filed IPO or VC $50M+ | 10+ years | 100+ employees | 10+ offices |
| Rise Interactive Media & Analytics, LLC | 10.00 | $100M+ | IPO / Filed IPO or VC $50M+ | 10+ years | 100+ employees | 10+ offices |
| RTK.io, Inc. | 1.75 | Less than $5M or unknown | Bootstrapped / Seed | Less than 3 years | Under 5 | 2-5 offices |
| Rubicon Project, Inc. | 10.00 | $100M+ | IPO / Filed IPO or VC $50M+ | 10+ years | 100+ employees | 10+ offices |
| Sailthru, Inc. | 9.75 | $100M+ | IPO / Filed IPO or VC $50M+ | 10+ years | 100+ employees | 5-10 offices |
| Salesforce.com, Inc. | 10.00 | $100M+ | IPO / Filed IPO or VC $50M+ | 10+ years | 100+ employees | 10+ offices |
| Salsify, Inc. | 7.25 | $10M-$25M | IPO / Filed IPO or VC $50M+ | 3-10 years | 100+ employees | 2-5 offices |
| Sam 4 Mobile, Inc. | 5.38 | Less than $5M or unknown | VC below $50M or Bank $5M+ | 3-10 years | 100+ employees | 10+ offices |
| Samsung Electronics Co., Ltd. | 10.00 | $100M+ | IPO / Filed IPO or VC $50M+ | 10+ years | 100+ employees | 10+ offices |
| Sephora USA, Inc. | 10.00 | $100M+ | IPO / Filed IPO or VC $50M+ | 10+ years | 100+ employees | 10+ offices |
| SessionM, Inc. | 8.63 | $25M-$100M | IPO / Filed IPO or VC $50M+ | 3-10 years | 100+ employees | 5-10 offices |
| SHAREASALE.COM, INC. | 10.00 | $100M+ | IPO / Filed IPO or VC $50M+ | 10+ years | 100+ employees | 10+ offices |
| Sharethrough, Inc. | 8.00 | $25M-$100M | VC below $50M or Bank $5M+ | 10+ years | 100+ employees | 5-10 offices |
| SheMedia, LLC | 10.00 | $100M+ | IPO / Filed IPO or VC $50M+ | 10+ years | 100+ employees | 10+ offices |
| Shopify, Inc. | 10.00 | $100M+ | IPO / Filed IPO or VC $50M+ | 10+ years | 100+ employees | 10+ offices |
| Shoptalk Commerce, LLC | 4.13 | Less than $5M or unknown | VC below $50M or Bank $5M+ | 3-10 years | 25 to 100 | 1 office |
| Shutterstock, Inc. | 9.75 | $100M+ | IPO / Filed IPO or VC $50M+ | 10+ years | 100+ employees | 5-10 offices |
| Simplifi Holdings, Inc. | 9.00 | $100M+ | IPO / Filed IPO or VC $50M+ | 3-10 years | 100+ employees | 2-5 offices |
| Simulmedia Inc. | 4.38 | Less than $5M or unknown | VC below $50M or Bank $5M+ | 10+ years | 25 to 100 | 1 office |
| SintecMedia NYC, Inc. | 10.00 | $100M+ | IPO / Filed IPO or VC $50M+ | 10+ years | 100+ employees | 10+ offices |
| Sling TV, LLC | 10.00 | $100M+ | IPO / Filed IPO or VC $50M+ | 10+ years | 100+ employees | 10+ offices |
| Smaato, Inc. | 9.75 | $100M+ | IPO / Filed IPO or VC $50M+ | 10+ years | 100+ employees | 5-10 offices |
| Smart Adserver USA, Inc. | 8.25 | $25M-$100M | VC below $50M or Bank $5M+ | 10+ years | 100+ employees | 10+ offices |
| Snapsort, Inc. | 7.00 | $25M-$100M | VC below $50M or Bank $5M+ | 3-10 years | 25 to 100 | 2-5 offices |
| Social Native, Inc. | 4.38 | Less than $5M or unknown | VC below $50M or Bank $5M+ | 3-10 years | 25 to 100 | 2-5 offices |
| SocialCode, LLC | 9.75 | $100M+ | IPO / Filed IPO or VC $50M+ | 3-10 years | 100+ employees | 10+ offices |
| Sony Pictures Entertainment | 10.00 | $100M+ | IPO / Filed IPO or VC $50M+ | 10+ years | 100+ employees | 10+ offices |
| Sovrn Holdings, Inc. | 9.25 | $100M+ | IPO / Filed IPO or VC $50M+ | 10+ years | 100+ employees | 2-5 offices |
| Speculative Product Design, LLC | 10.00 | $100M+ | IPO / Filed IPO or VC $50M+ | 10+ years | 100+ employees | 10+ offices |
| Sperry Top-Sider | 9.75 | $100M+ | IPO / Filed IPO or VC $50M+ | 10+ years | 100+ employees | 5-10 offices |
| Sportority Inc. | 8.63 | $25M-$100M | IPO / Filed IPO or VC $50M+ | 3-10 years | 100+ employees | 5-10 offices |
| Spot.IM Ltd. | 5.50 | Less than $5M or unknown | IPO / Filed IPO or VC $50M+ | 3-10 years | 100+ employees | 2-5 offices |
| SpotXchange, Inc. | 10.00 | $100M+ | IPO / Filed IPO or VC $50M+ | 10+ years | 100+ employees | 10+ offices |
| Sprint Nextel Corporation | 10.00 | $100M+ | IPO / Filed IPO or VC $50M+ | 10+ years | 100+ employees | 10+ offices |
| StackAdapt Inc. | 5.25 | $5M-$10M | VC below $50M or Bank $5M+ | 3-10 years | 100+ employees | 1 office |
| Starcom Worldwide, Inc. | 10.00 | $100M+ | IPO / Filed IPO or VC $50M+ | 10+ years | 100+ employees | 10+ offices |
| Starz | 10.00 | $100M+ | IPO / Filed IPO or VC $50M+ | 10+ years | 100+ employees | 10+ offices |
| Stash Financial, Inc. | 7.88 | $25M-$100M | IPO / Filed IPO or VC $50M+ | 3-10 years | 100+ employees | 1 office |
| State Farm | 10.00 | $100M+ | IPO / Filed IPO or VC $50M+ | 10+ years | 100+ employees | 10+ offices |
| Stitch Labs, Inc. | 4.13 | Less than $5M or unknown | VC below $50M or Bank $5M+ | 3-10 years | 25 to 100 | 1 office |
| Stratifyd, Inc. | 5.25 | Less than $5M or unknown | IPO / Filed IPO or VC $50M+ | 3-10 years | 25 to 100 | 2-5 offices |
| Sublime Skinz, Inc. | 7.75 | $25M-$100M | VC below $50M or Bank $5M+ | 3-10 years | 100+ employees | 5-10 offices |
| Sun Life Financial, Inc. | 10.00 | $100M+ | IPO / Filed IPO or VC $50M+ | 10+ years | 100+ employees | 10+ offices |
| SupplyKick LLC | 5.00 | $10M-$25M | Bootstrapped / Seed | 3-10 years | 25 to 100 | 1 office |
| Sweaty Betty Ltd. | 7.50 | $25M-$100M | VC below $50M or Bank $5M+ | 10+ years | 100+ employees | 2-5 offices |
| Sweden Unlimited Inc | 2.25 | Less than $5M or unknown | No info | 10+ years | 100+ employees | 2-5 offices |
| Synchrony Financial | 10.00 | $100M+ | IPO / Filed IPO or VC $50M+ | 10+ years | 100+ employees | 10+ offices |
| System1, LLC | 8.00 | $10M-$25M | IPO / Filed IPO or VC $50M+ | 3-10 years | 100+ employees | 10+ offices |
| T-Mobile USA, Inc. | 10.00 | $100M+ | IPO / Filed IPO or VC $50M+ | 10+ years | 100+ employees | 10+ offices |
| Taboola, Inc. | 10.00 | $100M+ | IPO / Filed IPO or VC $50M+ | 10+ years | 100+ employees | 10+ offices |
| Tapjoy, Inc. | 10.00 | $100M+ | IPO / Filed IPO or VC $50M+ | 10+ years | 100+ employees | 10+ offices |
| Tapresearch, Inc. | 4.75 | $10M-$25M | Bootstrapped / Seed | 3-10 years | 5 to 25 | 1 office |
| Teads, Inc. | 10.00 | $100M+ | IPO / Filed IPO or VC $50M+ | 10+ years | 100+ employees | 10+ offices |
| Team Internet AG | 9.13 | $25M-$100M | IPO / Filed IPO or VC $50M+ | 10+ years | 100+ employees | 10+ offices |
| Telaria, Inc. | 10.00 | $100M+ | IPO / Filed IPO or VC $50M+ | 10+ years | 100+ employees | 10+ offices |
| Telus Corporation | 10.00 | $100M+ | IPO / Filed IPO or VC $50M+ | 10+ years | 100+ employees | 10+ offices |
| The Alexander Group, Inc. | 2.75 | Less than $5M or unknown | No info | 10+ years | 100+ employees | 5-10 offices |
| The Alliance for Lifetime Income | 8.25 | $100M+ | IPO / Filed IPO or VC $50M+ | 3-10 years | 5 to 25 | 1 office |
| The Media Trust Company | 4.38 | Less than $5M or unknown | VC below $50M or Bank $5M+ | 10+ years | 25 to 100 | 1 office |
| The Motley Fool, LLC | 4.88 | Less than $5M or unknown | VC below $50M or Bank $5M+ | 10+ years | 100+ employees | 2-5 offices |
| The Trade Desk, Inc. | 10.00 | $100M+ | IPO / Filed IPO or VC $50M+ | 10+ years | 100+ employees | 10+ offices |
| The University of Texas Southwestern Medical Center | 10.00 | $100M+ | IPO / Filed IPO or VC $50M+ | 10+ years | 100+ employees | 10+ offices |
| The Virginia Museum of Fine Arts | 7.00 | $10M-$25M | IPO / Filed IPO or VC $50M+ | 10+ years | 25 to 100 | 1 office |
| The Walt Disney Company, Inc. | 10.00 | $100M+ | IPO / Filed IPO or VC $50M+ | 10+ years | 100+ employees | 10+ offices |
| Tinuiti Inc. | 8.25 | $25M-$100M | VC below $50M or Bank $5M+ | 10+ years | 100+ employees | 10+ offices |
| Toll Brothers, Inc. | 10.00 | $100M+ | IPO / Filed IPO or VC $50M+ | 10+ years | 100+ employees | 10+ offices |
| Toyota Motors North America | 10.00 | $100M+ | IPO / Filed IPO or VC $50M+ | 10+ years | 100+ employees | 10+ offices |
| Treasure Data, Inc. | 10.00 | $100M+ | IPO / Filed IPO or VC $50M+ | 10+ years | 100+ employees | 10+ offices |
| Trilia Media, Inc. | 10.00 | $100M+ | IPO / Filed IPO or VC $50M+ | 10+ years | 100+ employees | 10+ offices |
| Triplelift, Inc. | 9.50 | $100M+ | IPO / Filed IPO or VC $50M+ | 3-10 years | 100+ employees | 5-10 offices |
| True Anthem | 4.38 | Less than $5M or unknown | VC below $50M or Bank $5M+ | 10+ years | 25 to 100 | 1 office |
| TruSignal, Inc. | 9.25 | $100M+ | IPO / Filed IPO or VC $50M+ | 10+ years | 100+ employees | 2-5 offices |
| Tubular Labs, Inc. | 6.88 | $10M-$25M | VC below $50M or Bank $5M+ | 3-10 years | 100+ employees | 5-10 offices |
| Tune, Inc. | 8.88 | $25M-$100M | IPO / Filed IPO or VC $50M+ | 10+ years | 100+ employees | 5-10 offices |
| Ulta Beauty, Inc. | 10.00 | $100M+ | IPO / Filed IPO or VC $50M+ | 10+ years | 100+ employees | 10+ offices |
| Under Armour, Inc. | 10.00 | $100M+ | IPO / Filed IPO or VC $50M+ | 10+ years | 100+ employees | 10+ offices |
| Underdog Media, LLC | 3.25 | Less than $5M or unknown | Bootstrapped / Seed | 10+ years | 5 to 25 | 1 office |
| United Parcel Service, Inc. | 9.75 | $100M+ | IPO / Filed IPO or VC $50M+ | 10+ years | 100+ employees | 5-10 offices |
| Unity Technologies, Inc. | 10.00 | $100M+ | IPO / Filed IPO or VC $50M+ | 10+ years | 100+ employees | 10+ offices |
| Universal Pictures | 10.00 | $100M+ | IPO / Filed IPO or VC $50M+ | 10+ years | 100+ employees | 10+ offices |
| Unruly Group Ltd. | 10.00 | $100M+ | IPO / Filed IPO or VC $50M+ | 10+ years | 100+ employees | 10+ offices |
| Valassis Communications, Inc. | 10.00 | $100M+ | IPO / Filed IPO or VC $50M+ | 10+ years | 100+ employees | 10+ offices |
| Verve Wireless, Inc. | 8.88 | $100M+ | VC below $50M or Bank $5M+ | 10+ years | 100+ employees | 5-10 offices |
| Vevo, LLC | 9.00 | $100M+ | IPO / Filed IPO or VC $50M+ | 10+ years | 100+ employees | 1 office |
| Viacom | 10.00 | $100M+ | IPO / Filed IPO or VC $50M+ | 10+ years | 100+ employees | 10+ offices |
| Viant, Inc. | 10.00 | $100M+ | IPO / Filed IPO or VC $50M+ | 10+ years | 100+ employees | 10+ offices |
| VideoAmp, Inc. | 7.75 | $10M-$25M | IPO / Filed IPO or VC $50M+ | 3-10 years | 100+ employees | 5-10 offices |
| Visa U.S.A, Inc. | 9.75 | $100M+ | IPO / Filed IPO or VC $50M+ | 10+ years | 100+ employees | 5-10 offices |
| Vizrt, Inc. | 10.00 | $100M+ | IPO / Filed IPO or VC $50M+ | 10+ years | 100+ employees | 10+ offices |
| VMware, Inc. | 9.75 | $100M+ | IPO / Filed IPO or VC $50M+ | 10+ years | 100+ employees | 5-10 offices |
| Volkswagen AG | 10.00 | $100M+ | IPO / Filed IPO or VC $50M+ | 10+ years | 100+ employees | 10+ offices |
| VSP Vision Care | 10.00 | $100M+ | IPO / Filed IPO or VC $50M+ | 10+ years | 100+ employees | 10+ offices |
| Vungle, Inc. | 8.63 | $100M+ | VC below $50M or Bank $5M+ | 3-10 years | 100+ employees | 5-10 offices |
| W20 Group | 8.88 | $100M+ | VC below $50M or Bank $5M+ | 10+ years | 100+ employees | 5-10 offices |
| Warner Brothers Entertainment | 10.00 | $100M+ | IPO / Filed IPO or VC $50M+ | 10+ years | 100+ employees | 10+ offices |
| Warner Media | 10.00 | $100M+ | IPO / Filed IPO or VC $50M+ | 10+ years | 100+ employees | 10+ offices |
| Wavemaker Global Limited | 10.00 | $100M+ | IPO / Filed IPO or VC $50M+ | 10+ years | 100+ employees | 10+ offices |
| Wendy's International, LLC | 10.00 | $100M+ | IPO / Filed IPO or VC $50M+ | 10+ years | 100+ employees | 10+ offices |
| White Ops, Inc. | 5.50 | $5M-$10M | VC below $50M or Bank $5M+ | 3-10 years | 100+ employees | 2-5 offices |
| Wibbitz Ltd. | 5.50 | $5M-$10M | VC below $50M or Bank $5M+ | 3-10 years | 100+ employees | 2-5 offices |
| Wolverine World Wide, Inc. | 9.75 | $100M+ | IPO / Filed IPO or VC $50M+ | 10+ years | 100+ employees | 5-10 offices |
| Wondery, Inc. | 6.13 | $10M-$25M | VC below $50M or Bank $5M+ | 3-10 years | 25 to 100 | 2-5 offices |
| WoodWing Software BV | 5.75 | $10M-$25M | Bootstrapped / Seed | 10+ years | 100+ employees | 2-5 offices |
| WPP plc | 9.75 | $100M+ | IPO / Filed IPO or VC $50M+ | 3-10 years | 100+ employees | 10+ offices |
| Wright's Media, LLC | 5.25 | $10M-$25M | Bootstrapped / Seed | 10+ years | 25 to 100 | 1 office |
| Xaxis, LLC | 9.75 | $100M+ | IPO / Filed IPO or VC $50M+ | 3-10 years | 100+ employees | 10+ offices |
| Yahoo, Inc. | 10.00 | $100M+ | IPO / Filed IPO or VC $50M+ | 10+ years | 100+ employees | 10+ offices |
| Yieldmo, Inc. | 5.25 | $5M-$10M | VC below $50M or Bank $5M+ | 3-10 years | 25 to 100 | 2-5 offices |
| Yotpo, Ltd. | 8.13 | $25M-$100M | IPO / Filed IPO or VC $50M+ | 3-10 years | 100+ employees | 2-5 offices |
| YouAppi Inc. | 8.88 | $100M+ | VC below $50M or Bank $5M+ | 3-10 years | 100+ employees | 10+ offices |
| Zappos LLC | 10.00 | $100M+ | IPO / Filed IPO or VC $50M+ | 10+ years | 100+ employees | 10+ offices |
| Zemanta Inc | 10.00 | $100M+ | IPO / Filed IPO or VC $50M+ | 10+ years | 100+ employees | 10+ offices |
| ZenithOptimedia Ltd. | 10.00 | $100M+ | IPO / Filed IPO or VC $50M+ | 10+ years | 100+ employees | 10+ offices |
| zeotap GmbH | 5.38 | Less than $5M or unknown | VC below $50M or Bank $5M+ | 3-10 years | 100+ employees | 10+ offices |
| Zeta Global Corp. | 10.00 | $100M+ | IPO / Filed IPO or VC $50M+ | 10+ years | 100+ employees | 10+ offices |
| Zoom Media Group Inc. | 5.38 | Less than $5M or unknown | VC below $50M or Bank $5M+ | 10+ years | 100+ employees | 5-10 offices |
| Zynga Inc. | 9.75 | $100M+ | IPO / Filed IPO or VC $50M+ | 10+ years | 100+ employees | 5-10 offices |
| Adyen N.V. | 10.00 | $100M+ | IPO / Filed IPO or VC $50M+ | 10+ years | 100+ employees | 10+ offices |
| American Medical Asociation | 10.00 | $100M+ | IPO / Filed IPO or VC $50M+ | 10+ years | 100+ employees | 10+ offices |
| Abbott Laboratories Inc. | 10.00 | $100M+ | IPO / Filed IPO or VC $50M+ | 10+ years | 100+ employees | 10+ offices |
| Minnesota Tourism Board | 7.25 | $10M-$25M | IPO / Filed IPO or VC $50M+ | 10+ years | 25 to 100 | 2-5 offices |
| Aruba Tourism Authority | 9.25 | $100M+ | IPO / Filed IPO or VC $50M+ | 10+ years | 100+ employees | 2-5 offices |
| Audi of America Inc. | 10.00 | $100M+ | IPO / Filed IPO or VC $50M+ | 10+ years | 100+ employees | 10+ offices |
| i-Health Inc. | 9.25 | $100M+ | IPO / Filed IPO or VC $50M+ | 10+ years | 100+ employees | 2-5 offices |
| Koninklijke DSM N.V. | 9.25 | $100M+ | IPO / Filed IPO or VC $50M+ | 10+ years | 100+ employees | 2-5 offices |
| BCE Inc. | 9.25 | $100M+ | IPO / Filed IPO or VC $50M+ | 10+ years | 100+ employees | 2-5 offices |
| BlackRock, Inc | 10.00 | $100M+ | IPO / Filed IPO or VC $50M+ | 10+ years | 100+ employees | 10+ offices |
| CHS Inc. | 10.00 | $100M+ | IPO / Filed IPO or VC $50M+ | 10+ years | 100+ employees | 10+ offices |
| Children's Health System of Texas | 9.13 | $100M+ | VC below $50M or Bank $5M+ | 10+ years | 100+ employees | 10+ offices |
| Citigroup, Inc. | 10.00 | $100M+ | IPO / Filed IPO or VC $50M+ | 10+ years | 100+ employees | 10+ offices |
| Citibank NA | 10.00 | $100M+ | IPO / Filed IPO or VC $50M+ | 10+ years | 100+ employees | 10+ offices |
| Comcast Corporation | 9.75 | $100M+ | IPO / Filed IPO or VC $50M+ | 10+ years | 100+ employees | 5-10 offices |
| Comcast Cable Communications, LLC | 9.75 | $100M+ | IPO / Filed IPO or VC $50M+ | 10+ years | 100+ employees | 5-10 offices |
| Corteva, Inc. | 8.25 | $100M+ | IPO / Filed IPO or VC $50M+ | Less than 3 years | 100+ employees | 2-5 offices |
| CSG Systems International, Inc. | 10.00 | $100M+ | IPO / Filed IPO or VC $50M+ | 10+ years | 100+ employees | 10+ offices |
| Fiat Chrysler Automobiles N.V. | 10.00 | $100M+ | IPO / Filed IPO or VC $50M+ | 10+ years | 100+ employees | 10+ offices |
| FCA North America Holdings LLC | 10.00 | $100M+ | IPO / Filed IPO or VC $50M+ | 10+ years | 100+ employees | 10+ offices |
| General Motors Company | 10.00 | $100M+ | IPO / Filed IPO or VC $50M+ | 10+ years | 100+ employees | 10+ offices |
| Henry Ford Health System | 9.13 | $100M+ | VC below $50M or Bank $5M+ | 10+ years | 100+ employees | 10+ offices |
| Health Alliance Plan | 9.13 | $100M+ | VC below $50M or Bank $5M+ | 10+ years | 100+ employees | 10+ offices |
| Kindred Healthcare, LLC | 9.25 | $100M+ | IPO / Filed IPO or VC $50M+ | 10+ years | 100+ employees | 2-5 offices |
| LG Electronics Inc. | 10.00 | $100M+ | IPO / Filed IPO or VC $50M+ | 10+ years | 100+ employees | 10+ offices |
| McMaster University | 10.00 | $100M+ | IPO / Filed IPO or VC $50M+ | 10+ years | 100+ employees | 10+ offices |
| Midmark Corporation | 9.13 | $100M+ | VC below $50M or Bank $5M+ | 10+ years | 100+ employees | 10+ offices |
| Nevada Division of Tourism | 7.88 | $25M-$100M | IPO / Filed IPO or VC $50M+ | 3-10 years | 25 to 100 | 2-5 offices |
| N.V. Perricone LLC | 7.25 | $25M-$100M | VC below $50M or Bank $5M+ | 10+ years | 100+ employees | 1 office |
| Pharmaceutical Research and Manufacturers of America | 9.00 | $100M+ | IPO / Filed IPO or VC $50M+ | 10+ years | 100+ employees | 1 office |
| Silver Peak Systems, Inc. | 8.88 | $25M-$100M | IPO / Filed IPO or VC $50M+ | 10+ years | 100+ employees | 5-10 offices |
| Intuit Inc. | 10.00 | $100M+ | IPO / Filed IPO or VC $50M+ | 10+ years | 100+ employees | 10+ offices |
| Mitsubishi UFJ Financial Group, Inc. | 10.00 | $100M+ | IPO / Filed IPO or VC $50M+ | 10+ years | 100+ employees | 10+ offices |
| MUFG Union Bank, N.A. | 10.00 | $100M+ | IPO / Filed IPO or VC $50M+ | 10+ years | 100+ employees | 10+ offices |
| NetJets, Inc. | 10.00 | $100M+ | IPO / Filed IPO or VC $50M+ | 10+ years | 100+ employees | 10+ offices |
| AAA Club Alliance, Inc. | 10.00 | $100M+ | IPO / Filed IPO or VC $50M+ | 10+ years | 100+ employees | 10+ offices |
| ChannelAdvisor Corp | 9.25 | $100M+ | IPO / Filed IPO or VC $50M+ | 10+ years | 100+ employees | 2-5 offices |
| National Public Radio, Inc. | 9.00 | $100M+ | IPO / Filed IPO or VC $50M+ | 10+ years | 100+ employees | 1 office |
| Mutual of Omaha Insurance Company | 9.00 | $100M+ | IPO / Filed IPO or VC $50M+ | 10+ years | 100+ employees | 1 office |
| Milk Processor Education Program | 7.63 | $25M-$100M | IPO / Filed IPO or VC $50M+ | 10+ years | 5 to 25 | 1 office |
| Athene Holding Ltd | 9.00 | $100M+ | IPO / Filed IPO or VC $50M+ | 10+ years | 100+ employees | 1 office |
| Athene Annuity & Life Assurance Company | 9.00 | $100M+ | IPO / Filed IPO or VC $50M+ | 10+ years | 100+ employees | 1 office |
Request Debtor Data API Access
OAREX's Digital Media Debtor Data is for informational purposes only, is confidential and may not be reproduced or transferred, in whole or in part, to any other party without the express written consent of OAREX Capital Markets, Inc. The information contained herein does not constitute any sort of guarantee to any person or company about the credit worthiness of another entity.  The methodology described above may not be a valid or complete measure of a company's creditworthiness. OAREX calculates its own internal credit scores based on public and non-public or interpreted data, so OAREX's internal credit scores are different than the OAREX index score assigned. Some assumptions may need to be made regarding the validity of publicly available data, the selection of the data used requires the exercise of judgment and is subject to uncertainty. Nothing contained herein should be relied on. Any recipient of this information must conduct and rely on its own evaluation of credit risk, and the credit worthiness of others. No representation or warranty of any kind is or can be made with respect to the accuracy or completeness of, and no representation or warranty should be inferred from the information herein or the assumptions underlying it. No representation or warranty is or can be made as to any company's future operations or the amount of any future income that may be realized or loss due to good or bad credit situations. The actual results achieved will vary from herein, and variations may be material. Recipients of this information are cautioned not to place reliance on the OAREX's assigned index scores. If you believe your company's score is incorrect, please contact us at [email protected]