Simple & Transparent Pricing
Draw Fee: 1.89% discount fee off of the gross invoice value, one-time.
Rev Share: starting at 0.33% – .66% per week, beginning week 5.
OAREX offers pricing that is simple and easy to understand. With each sale of your invoices, we discount a flat rate, 1.89% Revenue Draw Fee. Then, after 30 days have passed, we begin charging our Revenue Share which is 0.33% per week.
A Rev Share Mindful of Your Margins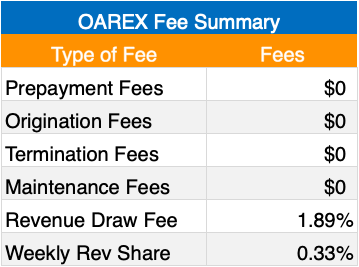 How It Works
As a factor, we approve your customers for credit when you sign up. Before the first funding, we re-direct payment from your customers to OAREX, so we get paid directly. Once your customers are approved for credit, you can sell invoices on-demand to accelerate cash flow as you need to. After we  get paid the full invoice amount, we will send you the Reserve: the amount we did not advance, minus our Draw Fee and Weekly Factor Fee. This example assumes we are offering a 90% advance, for invoices totaling $10,000, and an average days to pay of 60.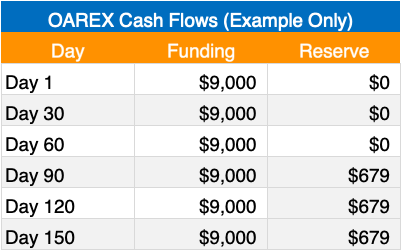 We will never check your credit score or sell your information.