Native advertising is growing fast likely because it supplements a brand's content marketing strategy. After all, no one wants to spend 40+ hours creating great content that nobody sees or cares to see, right? One of the less talked about but highly effective forms of native advertising is sponsored content aka recommended content. In this post, we guide you on how to take advantage of this massive source of traffic to grow your audience, brand and sales.
What is Sponsored Content?
Sponsored content is exactly that – content sponsored by someone (usually a business). You've seen it on Facebook with Sponsored Posts and Twitter with Promoted Tweets. It's even on Reddit with "Promoted" stories. Below are content recommendation networks that show sponsored headlines at the bottom of online news articles.

Here is an example taken from ESPN: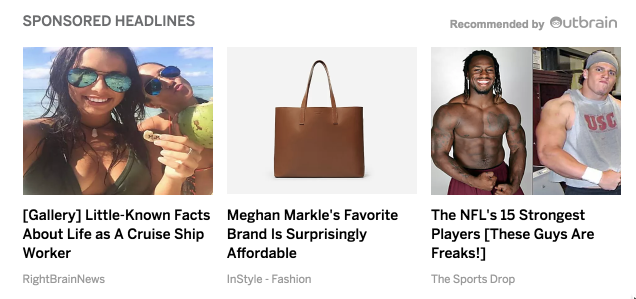 Ever see this widgets on a website? Ok great, here is what they're all about…
What You Need To Start With Sponsored Content
There are two main things you need to start: $100 and a great piece of content. The content can be a blog post, podcast, video, slideshow article, mobile app or even an advertorial.
If you don't have at least a $100 budget to test then don't even waste your time setting up an account with a major network. For some people a hundred bucks won't be enough to test the waters. It is the minimum for consideration.
Sponsored Content: The Major Players 
Outbrain will let you start with as little as $10/day campaign budget; however, they are the most strict in terms of compliance. Why? Because they have big publishers on their platform such as CNN & ESPN.

Taboola competes head to head with Outbrain in size and prized properties such as MSN. It is a little easier to get advertorials approved on Taboola. You may need a higher initial deposit with Taboola to start off.

Revcontent is a bit smaller however they still have lots of quality traffic including Forbes.com. The tricky part with Revcontent is the minimum budget is $100/day so you need a higher test budget. Check out this Revcontent tutorial & optimization guide to make efficient use of your test budget.

Yahoo Gemini is how you advertise on all of the Oath owned properties from Yahoo & AOL including Yahoo Sports (think fantasy) and Finance. Yahoo is even more strict than Outbrain for compliance. However, they offer self serve sign up so you can get started quickly. Check out this Getting Started with Yahoo Gemini guide for a deep dive.

Sharethrough is a bit different because they are a Supply Side Platform (SSP) that offer in-feed units on major publishers such as Mashable, Men's Health and Rolling Stone. They are a bit more like Yahoo Gemini because it is an individual ad similar to what you see in Facebook news feed than 3-4 ads in a "widget"  as shown in the example earlier.
There are several other smaller networks; these are just the biggest networks in the US and Europe.
Where to See What's Working
There are several competitive intelligence tools that cover native ads so you can see who the top spenders are and what kind of ads they are running. Take a trial run of Adbeat, WhatRunsWhere or Advault to see which one fits your needs the most.
Or if you have more time than money; visit the publishers directly with your ad blocker turned off. It is inefficient but gives you a real sense for what is showing up "in the wild".
Personally I start with a competitive intelligence tool to check my competitors ads and where they are showing up. Then I go to some of the major publishers manually that are exposed to see the ads in the wild in real time.
In part 2, I will be detailing how to structure sponsored content campaigns. Stay tuned!
This post was written by Mark Simon, co-founder of of Brax.io, a platform that helps performance marketers scale, automate and simplify native advertising.