How is the AdTech slowdown confirmed as growth continues shrinking in Q3? In our last AdTech revenue report for Q2, the data was more optimistic. The broader digital media industry was outperforming "Big AdTech" and median growth rates were above pre-covid levels. Implying that "the slowdown" was not impacting the broader AdTech ecosystem as we were led to believe from mainstream media.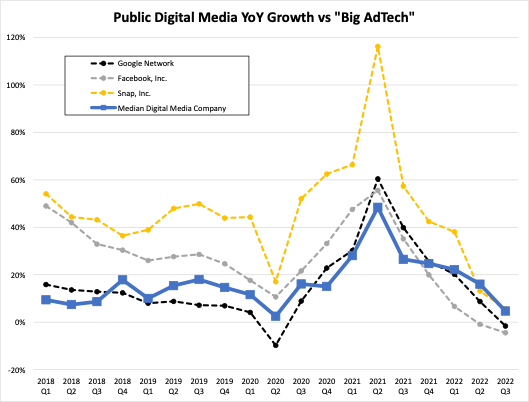 Tired of mainstream media focusing only on "Big AdTech", our team began examining public revenue data for the broader digital media industry. We review the revenues of more than 30 public digital media companies and compare their performance next to "Big AdTech". In our last report, with growth rates still above historical performance, the dip in Q2 was viewed more as a correction to normalcy from post-covid inflation rather than a true slowdown. Today we are releasing the 2022 Q3 Digital Media Revenue Report to share our findings. Unfortunately, Q3 performance appears to be confirming the AdTech slowdown.
Companies Analyzed
We evaluated data from publicly traded companies, in the USA, with financial reports denominated in USD. Those companies must also earn a majority of their revenues from digital media operations and have been underwritten by OAREX's credit team. Furthermore, we excluded some "Big AdTech" companies to ensure the data was not outweighed by industry giants (i.e. Google, Meta, and Snap).
Key Findings In The Report
With median company growth of 5% YoY, revenue growth fell to its lowest in nearly 5 years (excluding Q2, 2020).
63% of the companies reviewed showed an increase in YoY revenues, much worse than ex-covid historical performance.
The AdTech slowdown is real, revenue growth dipped below 2018 and 2019 numbers which suggests this is no longer a "catch up" to normalcy.
Our Takeaway
With Q3 revenues confirming the slowdown and recession narratives, and ad firms re-evaluating their growth outlook for 2023, digital media companies should plan accordingly. There is an old adage among investors, when "sh!t hits the fan" everything correlates to one. Interestingly, at 19%, dispersion among the AdTech basket is near the low. For reference, dispersion was between 30-40% during 2020 and 2021. Both the broader digital media sector and "Big AdTech" are now in line with each other. This compression we are seeing may further strengthen the signals supporting a looming recession in digital media. Prudent operators would be wise to evaluate their partnerships and secure their access to capital. This way they can ensure their business is on solid ground, ready to weather any storms on the horizon and exploit potential opportunities which may arise.
Want to see more? Download a copy of our free report here or schedule a call to speak with our team.