You have likely read some of the negative press about the advertising industry lately. Take your pick: growth rates slowing, ad spend recession, widespread media layoffs or how about the impending "crash" that is coming? We know Meta and Google are down, but how bad is it for the rest? It has been a rough couple of months and we can sure use some good news. After turning to the data, we are happy to report that revenues remain strong!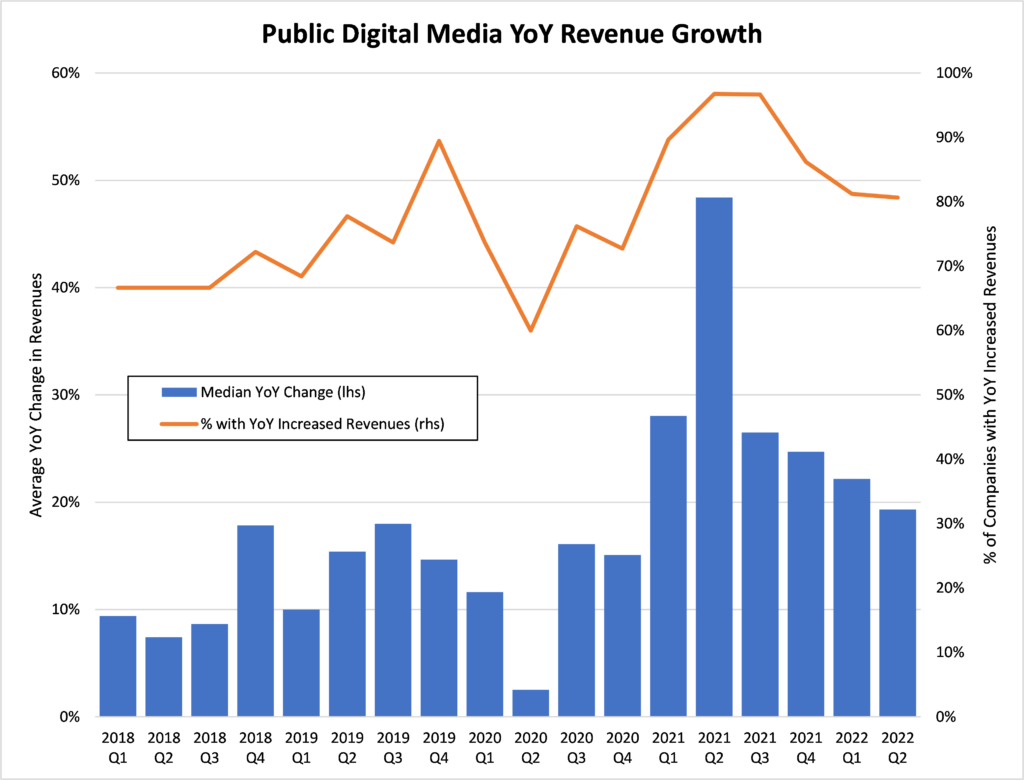 Sick of only hearing about "Big AdTech", our team decided to do some digging. We reviewed revenue performance of more than 30 public digital media companies to learn more. Today we are releasing the 2022 Q2 Digital Media Revenue Report to share our findings.
Companies Analyzed
We evaluated data from publicly traded companies, in the USA, with financial reports denominated in USD. Those companies must also earn a majority of their revenues from digital media operations and have been underwritten by OAREX's credit team. Furthermore, we excluded some "Big AdTech" companies to ensure the data was not outweighed by industry giants (i.e. Google, Meta, Twitter, etc.).
Key Findings In The Report
With median company growth of 19% YoY, revenue growth is slowing but remains strong vs pre-covid performance.
81% of the companies reviewed showed an increase in YoY revenues, higher than most quarters prior to 2021.
The broader digital media industry is outperforming "Big AdTech" companies (such as Google, Meta, Snap, and Twitter).
Our Takeaway
While 2022 is not over yet, the wide lens view paints a different picture. Taking a step back to look at the broader market, rather than focusing on industry giants, may offer a more authentic look into how companies are performing within the sector and their potential for future growth. When comparing Q2 against more "normal" performance seen in other quarters prior to the pandemic, digital media revenue growth is strong.
Want to see more? Download a copy of our free report here or schedule a call to speak with our team.