Since Q2 2020, digital media payments began improving and continued to do so with every subsequent pay study. That trend continued through our last report. However, although debtor pay performance still showed general improvements, we noticed one metric that was signaling a potential shift. Raising the question, are late payments on the rise?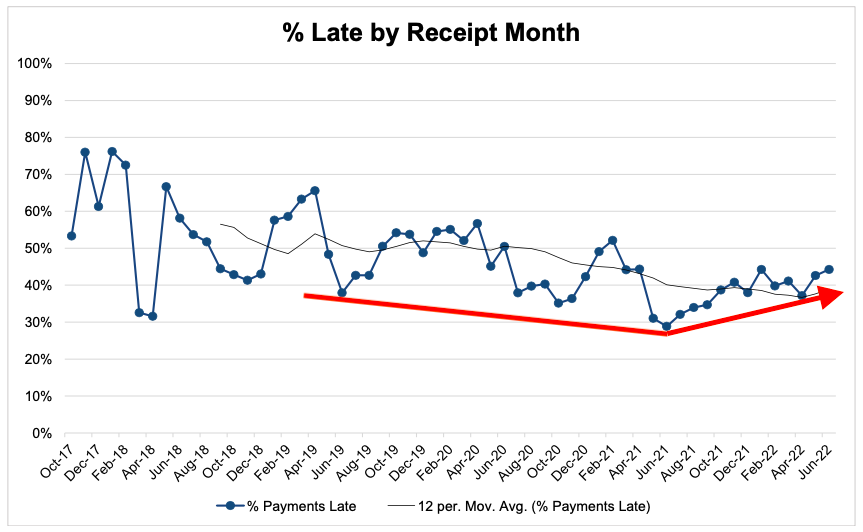 Today we are releasing our pay study for H1 2022, which appears to be confirming that sentiment. The previous trend towards earlier payments has stalled and may be reversing.
The Bad
Across our entire portfolio, YoY late payments increased for the first time since Q1 2020. After bottoming in June 2021, late payments have risen an average of 1% per month.
We saw a 5% bump in late payments when compared to H2 2021 (from 37% to 42%). Over that same period, payments more than 15 days late increased 3% (from 9% to 12%).
Pay terms are extending. Since our last report, we have seen a 10% increase to the average expected pay term among debtors.
The Good
Although late payments are on the rise, they are still below 2019 and 2020 levels. Meaning, as SBA liquidity dries up and we come down from the post-pandemic boom, these late payment levels are in-line with conditions seen in a normal economic environment.
Negative payment offsets were broadly unchanged. Underpayments across the portfolio were at 12% versus 11% in the previous period.
Payments from programmatic debtors, on average, are received 2 days early versus their stated terms.
Our Take
Overall, while late payments have risen, we are optimistic on the digital media industry heading into H2 2022. The current general consensus seems to disagree, painting a more "doom and gloom" narrative around slowing ad spend and industry layoffs. Yes, growth is slowing but we should remember that those comps are based on parabolic numbers. As economic conditions return to normal, so should our expectations on growth. Although growth has slowed, YoY revenues are broadly up across digital media.
Want to see more? Download a copy of our free report here or schedule a call to speak with our team.