In our last Digital Media Revenue Report for Q3, we saw the worst growth in the past 5 years (ex-Covid). The data was much worse than previous periods and seemed to confirm the AdTech slowdown was real, a sentiment that continues to concern advertisers across the industry. With recent credit events like EMX's bankruptcy and SVB's failure, there hasn't been much good news for digital media. Unfortunately, that trend of bad news continues for Q4 2022 AdTech revenue growth, worst performance in 5 years.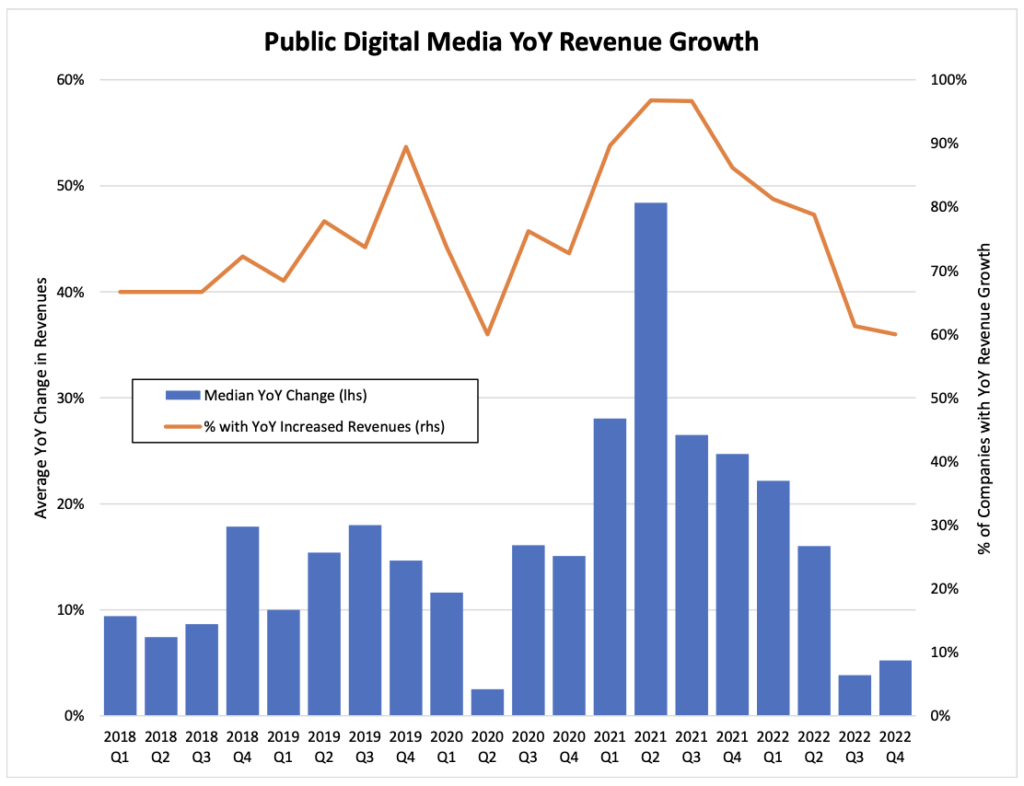 Tired of mainstream media focusing only on "Big AdTech", our team began examining public revenue data for the broader digital media industry. We review the revenues of more than 30 public digital media companies and compare their performance next to "Big AdTech". In our last report, Q3 2022 digital media revenues had the worst showing (outside of covid influenced Q2 2020) in the past 5 years, confirming the AdTech slowdown. Today we are releasing the 2022 Q4 Digital Media Revenue Report to share our findings. Unfortunately, Q4 remains suppressed and is in line with Q3 performance.
Companies Analyzed
We evaluated data from publicly traded companies, in the USA, with financial reports denominated in USD. Those companies must also earn a majority of their revenues from digital media operations and have been underwritten by OAREX's credit team. Furthermore, we excluded some "Big AdTech" companies to ensure the data was not outweighed by industry giants (i.e. Google, Meta, and Snap).
Key Findings In The Report
With median company growth of 5% YoY, Q4 2022 had the worst Q4 revenue growth in 5 years and was the third worst period overall (behind covid influenced Q2 2020 and Q3 2022).
60% of the companies reviewed showed an increase in YoY revenues, tied with Q2 2020 for worst performance in 5 years.
While the broader AdTech industry outperformed "Big AdTech", average performance was roughly the same.
Our Takeaway
The cracks are starting to show. While we are hopeful that economic conditions will start to improve, we do not anticipate that will happen anytime soon. Q4 is historically the annual boom quarter for advertising, often carrying 50% or more of annual ad related revenues. However, Q4 2022 AdTech revenue growth was the worst showing, by far, in our dataset. As credit continues tightening, risk will continue to plague companies across the ecosystem. To put it in perspective, the Fed funds rate has risen more than 20x in the past year. Sentiment is mixed on whether the Fed will continue their trajectory or pause raising rates further. However, if macro economic conditions do not begin to improve dramatically, then the Fed will have no choice but to continue on this path. One thing is for certain the current landscape is rocky at best. While risk and volatility remain high, new opportunities are lurking around the corner. Companies who are confident in their partnerships and financing will be well positioned to capitalize when economic conditions begin to improve.
Want to see more? Download a copy of our free report here or schedule a call to speak with our team.