Late digital media payments have fallen to their lowest level in 2.5 years, since we began tracking the data in April, 2018. Each quarter, OAREX publishes its Digital Media Payments Study, which is a comprehensive report about the status of payments in the industry. Our report includes payment performance from digital media exchanges and advertisers . Detail includes how early or late do they pay, and by how many days. As well as if they over or under pay, and by how much that discrepancy is.
Late Digital Media Payments Hit Low
In April, 2018, almost 25% of all media payments we received were late. The trend continued upward, and despite some ebb and flow, late payments continuously hit approximately 60%. Until recently.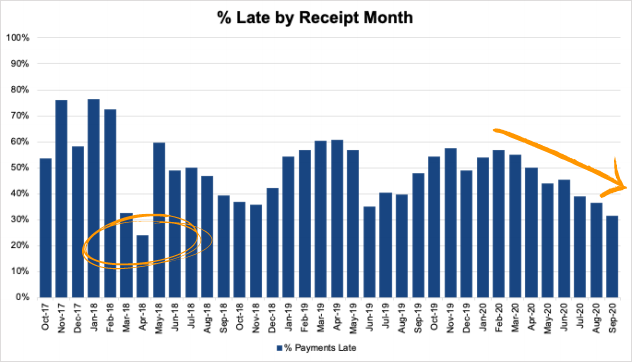 In February, late payments began a steady decline from the highs. We attributed this to two things. First is that many SSPs and intermediaries extended their actual pay terms during the pandemic. So what was once late, now all of a sudden became "early". Another factor contributing to "on time payments" were SBA loans. With businesses so flush with cash, many paid early as a sign of strength. This trend continued through the end of September.
Will the trend continue?
Most SBA lending programs expired at the end of September, which corresponds with the low. What will be interesting to see is whether the trend continues now that government money has run out. With additional infusions of capital, digital media exchanges and advertisers will have to better manage cash flow to keep up with timely payments. We remain cautiously optimistic.
CEO Hanna Kassis said around 20%-25% of the firms working with Oarex posted their best performing August in company history.

Source: How Ad Tech Is Recoverying After a Rocky Summer, Adweek, October, 2020
Other Key Highlights of Report
Other key highlights of our Q3 Digital Media Payments Report include:
In line with a dramatic decrease in late payments, early Payments increased 31% over Q2, 2020
Payments more than 30 days late outnumber payments less than 30 days late by 4x.
Apple, AppLovin, QuinStreet and Google Play paid early 100% of the time.