M&A activity in ad tech and digital marketing is skyrocketing. Earlier this year, we heard of some big acquisitions like Vista Equity buying TripleLift, and WebMD's acquisition of PulsePoint. This led us to dig in a little deeper on the broader M&A activity in the economy, and the numbers are shocking (though not surprising). With cash at an all-time high, companies don't know where to deploy funds to find yield, so they're buying other companies. We dove into Crunchbase's data to find out more. Below is a summary of our findings and a link to download our free M&A ad tech report.
Ad Tech M&A Activity is Hot
The M&A market is hot. According to Luma's Q2 report, deal activity for advertising and marketing technology firms was up 174%. Bryan Park's Q2 M&A Report confirmed the surge in volume, as global M&A activity value grew $1.5T, a 385.6% increase over Q2, 2020.
This prompted us to mine Crunchbase data to drill down on M&A activity in ad tech specifically. Here is what we found.
Crunchbase M&A Data on Ad Tech: H1 2021
Sneak preview: the first half of 2021 saw nearly eclipsed all M&A activity in 2020. Deals through July 31st were 91% that of the prior year!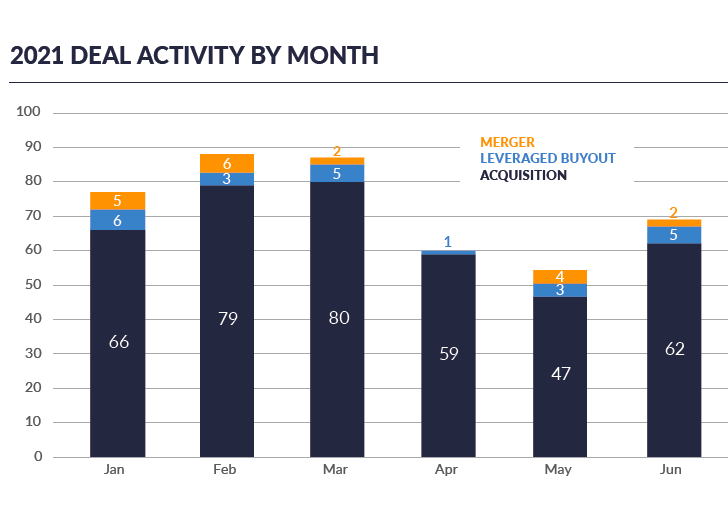 Download the Report to Access:
Mergers, Acquisitions & Buyouts: First Half of The Year
2021 Deal Activity by Month
Deal Activity by Month – 2021 vs. 2020
Deal Activity by H1 Volume – 2021 vs. 2020
Deal Activity by Quarter – 2021 vs. 2020
Acquirers Funding Status
Notable Transactions
Home Country of Suitor
Top 10 Acquirer Industries
Editor's note: the data in this report is from known transaction value per Crunchbase Pro. We only know what has been self reported by companies, and we must take them at their word. In other words, we did not actually verify that each of these transactions occurred. We encourage you to please read the full disclaimer on the last page of the report.
Download the free report here.