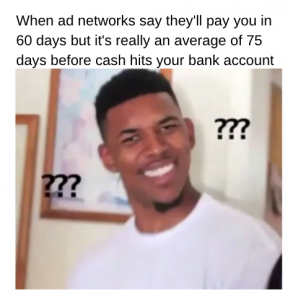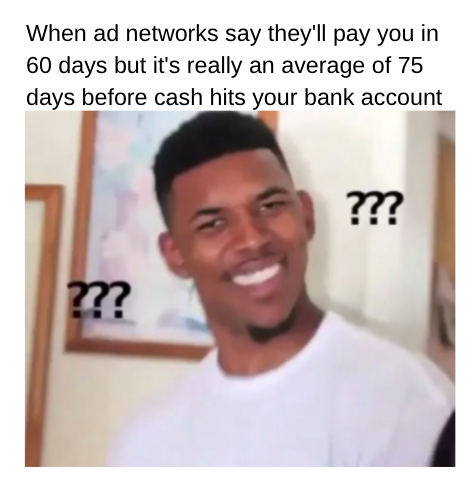 In digital media, most companies do business on net pay terms, getting paid by customers in 30-120 days. And that's not by choice. The biggest "customers" in digital media are companies like Google, Rubicon Project, Apple, and other multi-national, global brands like Xandr or AOL. And because they're so big, they dictate their terms to their vendors in the marketplace. Vendors they buy ad inventory from, like websites, smart phone apps and digital billboards. By not negotiating terms, these big firms say to the marketplace, "our net terms are 60 days, take it or leave it," in a sense.
Are net 60 pay terms really paid in 60 days?
No. Think about it. If you earn ad revenue from January 1st until January 31st, and you get paid on net 60, that means you're getting paid on March 30th or so (60 days forward from January 31st). But that's net 60 from the ad revenue on the last day of the month. What about ad revenue mid-month? Or on January 1st?
Example of real pay terms of "Net 60" in digital media, for ad revenue earned in January:
Ad revenue on January 1st – net 90 real terms
Ad revenue on January 15th – net 75 real terms
Ad revenue on January 31st – net 60 real terms
So while you may get paid on "net 60", you're really getting paid for your bundle of January ad revenue on Net 75, on average. Bullshit? Yes, we think so.
Especially since you have expenditures every week from your own vendors, that you need in order to scale. This mismatch really impedes growth, and it's a problem we've solved at OAREX.
OAREX Makes Net Pay Terms Irrelevant
We make net pay terms irrelevant by financing you daily, weekly, monthly or on-demand. Here is how our payouts work against the deceptive "net terms" your customers demand they pay you on:
Ad revenue on January 1st – paid out January 2nd, January 8th, February 1st, or whenever you want
Ad revenue any other day – paid out the next day, week, month or whenever you want
Capital-On-Demand is #1 for Growth
By having access to immediate liquidity, you can unlock the funds tied up in your invoices for cash up front. This enables you to scale your ad campaigns with your vendors like Facebook (for traffic acquisition) or an install campaign.