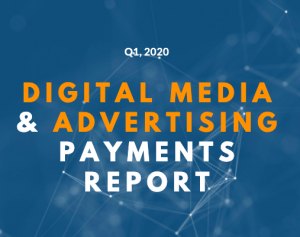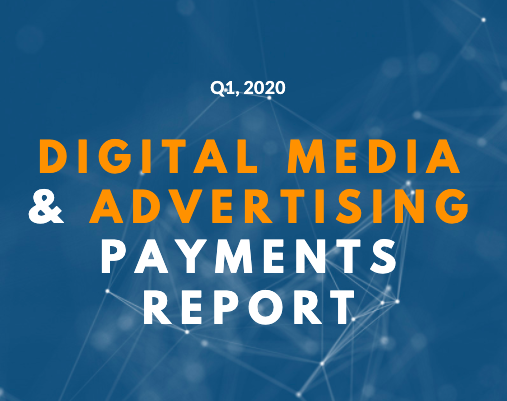 Today we released our digital media payments study covering Q1, 2020. The quarterly payment study tracks payment performance across the digital media and advertising ecosystem, reporting which companies ("debtors") pay late or early and by how many days. Other metrics we track include any offsets from debtors, how often those offsets occur, and how big they are.
Q1, 2020 Digital Media Payment Highlights
The Good
The number of digital media payments paid within 5 days before stated net terms increased 500% for Q1 2020, versus prior 12 months.

On-time payments fell by more than 50% (see page 7).

On a single debtor basis, the amount of debtors paying late half the time or less increased almost 27.5% (see page 9).

The percentage of payments that were offset (i.e. less than the stated amount) fell by 39% between February and March, after a stead month over month increase from September to February.

Overpayments (above stated amount to be paid) increased slightly, putting more money into the hands of publishers. Advertisers seem more willing to credit back money for certain CPMs.
The Bad
The percentage of debtors that paid us late at least once in Q1 jumped 14.6%, from 48% in Q4, 2019 to 55% in Q1, 2020. The number of companies paying late has steadily bee in the rise. Bottoming in June, 2019 at 40%, peaking in February at 57% and settling at 55% in March (see page 4).

Payments received earlier than stated net terms fell to a 26 month low (see page 5).

Payments more than 30 days late out-number payments less than 30 days late by 3-6X (page 6).

The percentage of late payments more than 30 days late has held steady at 27% (see page 6).
Top Performing Debtors
Apple, AppLovin, Conversant and Google Play (App Store) paid early 100% of the time. Dictionary.com, Freewheel, OATH/AOL, PubMatic, RhythmOne, Rubicon, TapJoy, Toyota Motors and Underdog Media paid early 70% of the time or more. Unity Technologies paid exactly on time 75% of the time (see page 14 for full breakdown by debtor).
Effects of COVID-19 on Payments
While ad budgets have been cut and CPMs have fallen dramatically, we have yet to see the impact of late payments due to COVID-19. We do however anticipate that payments will indeed be late, given the potential cash crunch companies are facing. Companies like GumGum and EMX Digital have recently extended their payment terms, and Teads eliminated revenue guarantees in anticipation of a drop in revenue.
We will continue to monitor payments and keep our finger on the pulse of the digital media ecosystem. Stay tuned for more data reports regarding COVID-19 and digital media payments.